Out of stock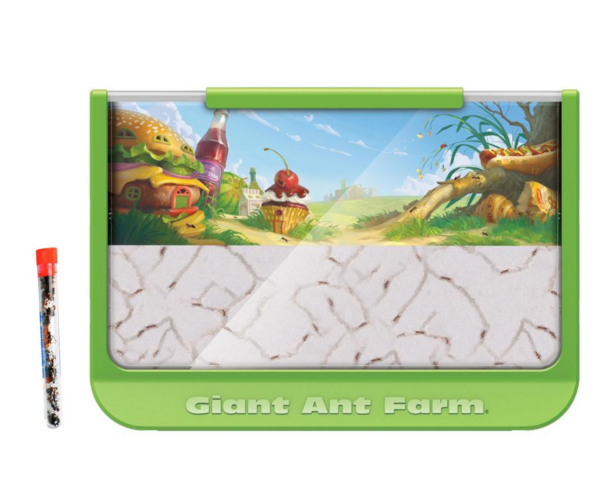 Uncle Milton's Giant Ant Farm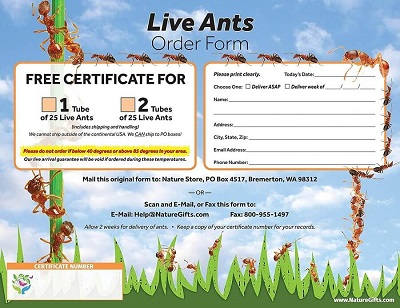 Certificate for Ants Later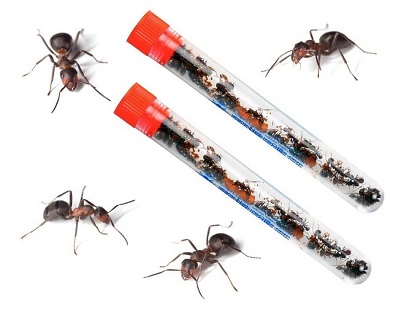 2 Tubes of 25 Harvester Ants Each
Giant Ant Farm With Live Ants – 4X LARGER
Giant Ant Farm holds 4x the volume of sand as the regular size and has the largest viewing area of any sand ant farm out there. It is ideal for group-viewing at home or in the classroom. Now you can easily share the captivating view of your large ant colony with your friends and family. Enjoy the classical Uncle Milton's Ant Farm in its giant avatar.
The kit includes live harvester ants or

 

certificate for harvester ants, 14

" x 10″ x 2.5″ ant farm,

clean tunneling sand

,

 

tunnel starter tool

,

 water feeder

, and

 

illustrated 'Ant Watcher's Guide.

Giant Ant Farm can easily house 50 – 75 large harvester ants at a time!
One tube contains 25 live red harvester ants plus a few extra, with food.

Order your kit with live ants now 

OR

 receive your kit with a FREE certificate which you can redeem to get your ants at a later date.

Please do not order if it's below 40°F or above 85°F in your area.

 

Our

 

live arrival guarantee

 

will be void if ordered during these temperatures.

IMPORTANT: We recommend adult supervision for setting up and managing the ant farm. Please follow the instructions that have been provided with your ants and ant farm. Harvester ants can bite or sting to protect themselves when handled, touched, or provoked. If you're allergic or sensitive to insect bites and stings, take extra caution in setting up and managing the ant farm.
Recommended for ages 8 years and up, with adult supervision
WARNING: CHOKING HAZARD — Small parts. Not for children under 3 years
$28.95 – $32.95
$28.95 – $32.95
Kit With 1 Tube Of

LIVE

Harvester Ants SENT NOW
Kit With 2 Tubes Of

LIVE

Harvester Ants SENT NOW
Kit With FREE Certificate For 1 Tube Of Harvester Ants LATER
Description
Ant farms are great tools to teach children about the natural world and its most abundant occupants. Giant Ant Farm gives your ants a big playfield in which they can be easily observed by every set of curious eyes. Immerse yourself into the amazing world of ants and discover their secrets today.
Your Giant Ant Farm Kit Will Contain
1 – 3 tubes of red harvester ants (25 ants in each tube)
14 x 10 x 2.5 inches ant farm
Clean tunnelling sand
A tunnel starter tool
Water feeder
Ant Watchers' Guide
Everything You Need For Your Ant Farm Story
Giant Ant Farm is a big habitat with tunnelling sand for your ants to dig in. Your ants will make their otherwise subterranean nest in the sand and you can observe them before your eyes with ease.
This kit has been put together to make ant-keeping even more engaging. You get all the things you need for a fascinating experience. Ants are very simple pets which do not require much attention, but everything that you might need to take care of them has been included.
The More Ants, The Merrier
Ants are called eusocial insects, which means they like to live together in big numbers in a colony while playing different roles. They collectively form a "superorganism" and work together to build their colony as if they all share a natural connection.
Giant Ant Farm can hold up to 3 tubes worth of ants to bring your "superpet" to life. Watch all your ants working in concert as they build their society. No other sand ant farm can support as many!
Caring For Your Pet Ants
Giant Ant Farm provides suitable conditions for your ants while allowing you to get the best view of a large ant colony. It is an escape-proof habitat, specially designed for keeping big harvester ants.
Your bustling ant colony will require your help with food and water though, and this makes for a great point of interaction for children. As starter pets, ants are very easy to care for. The Ants Watchers' Guide is packed with all the information that you will require to get a living ant colony up and running in no time.