Out of stock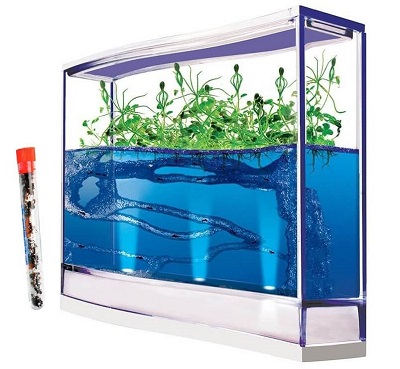 Giant Lighted Ecosystem With Live Ants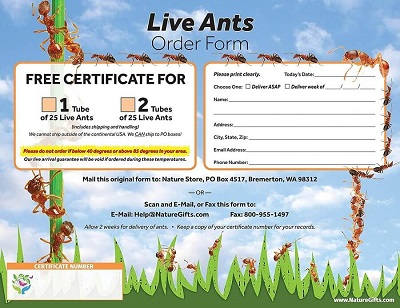 Certificate for Ants Later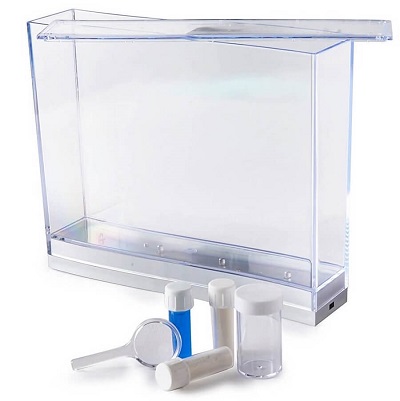 Giant Lighted Ecosystem Ant Habitat Complete Kit
Giant Lighted Ecosystem With Live Ants
Giant Lighted Ecosystem Ant Habitat is about 3 TIMES LARGER than other gel ant farms and lights up as well! This amazing gel eco-terrarium reproduces life in a container. Your ants and plants will live in a perfectly balanced environment. Watch ants dig tunnels and the plants develop their roots before your eyes.
The kit includes live harvester ants or

certificate for harvester ants, 

8″ x 10″ x 2.25″ curved ant farm, clear nutrient-rich gel you mix yourself, magnifier, tunnel starter tool, basil seeds, LED base, and instructions.
This ant farm has the extra step of mixing the special gel and adding it to the habitat. The unique gel is perfect for the ants to dig their tunnels and provides all their food and water.

The gel also allows you to grow seeds (provided) and watch your ants work their way around the roots.

One tube contains 25 live red harvester ants plus a few extra, with food.
If purchased with a certificate for ants, you can redeem your certificate ($5 extra for ant shipping) to receive about 25 harvester ants later.
Batteries Required: Three 1.5V AG13 batteries, not included.
LIVE ARRIVAL GUARANTEED! Please do not order if it's below 40°F or above 85°F in your area.

 

Our

 

live arrival guarantee

 

will be void if ordered during these temperatures.

IMPORTANT: We recommend adult supervision for setting up and managing the ant farm. Please follow the instructions that have been provided with your ants and ant farm. Harvester ants can bite or sting to protect themselves when handled, touched, or provoked. If you're allergic or sensitive to insect bites and stings, take extra caution in setting up and managing the ant farm.
Recommended for ages 8 years and up, with adult supervision
WARNING: CHOKING HAZARD — Small parts. Not for children under 3 years
$38.95 – $49.95
$38.95 – $49.95
Kit With Certificate For Harvester Ants LATER
Kit With 1 Tube Of

LIVE

Harvester Ants SENT NOW
Kit With 2 Tubes Of

LIVE

Harvester Ants SENT NOW
Description
Giant Lighted Ecosystem Ant Habitat provides a crawl space worthy of an intimidating ant colony. Based on real NASA experiments in which ants were taken into space, this gel ant farm adds to the fun by letting you plant basil to create an ecosystem for your ants.
Your Giant Lighted Ecosystem Ant Habitat Kit Will Contain
1 – 2 tubes of red harvester ants (25 ants in each tube)
8 x 10 x 2.25 inches ant farm
Blue nutrient-rich gel mixture
A magnifier
A tunnel starter tool
Basil seeds
LED base
Kit Instructions
Three Times Larger Than Other Gel Ant Farms
Giant Lighted Ecosystem Ant Habitat can be used to construct a large ant colony with several ants living and working together. Enjoy a wider view of your ant colony in this large gel ant farm. The translucent gel and magnifier will help you in keeping an eye on your ants and admiring their complex network of 3-D tunnels.
This big ant farm also supports a large foraging area on the surface of the gel. You can keep treats for your ants on the foraging or objects which you would like your ants to interact with. Giant Lighted Ecosystem Ant Habitat proves that good things might come in small packages but the best ones surely come in big ones!
Nutrient-rich Gel: Ideal Tunneling Medium
The nutrient-rich gel is a better tunneling medium than sand in ant farms. It provides all the food and water that your ants need and you don't have to worry about feeding them at all. It also does not collapse as easily as sand tunnels in sand ant farms do.
The gel will also support the basil seeds that come with the kit. You can grow basil to establish a small but functional ecosystem inside the habitat. The gel also contains fungicides to prevent the formation of molds, which can cause harm to your ants. As such, your ant farm will require no maintenance at all.
Lights up for the Best Viewing Experience
The LED base can be powered up with the help of three 1.5V AG13 button batteries (not included). In its lit up form, this gel ant farm looks completely futuristic and doubles as a nightlight. The blue gel reflects the light from the LED and illuminates the tunnels with a clear shine.
Giant Lighted Ecosystem Ant Habitat is sure to keep you entertained for a long time while you explore the world of ants in their natural ecosystem. Simple and clear instructions are included with the kit to help you maintain your ant colony and look after your pet ants.