Out of stock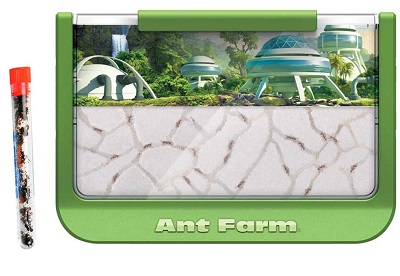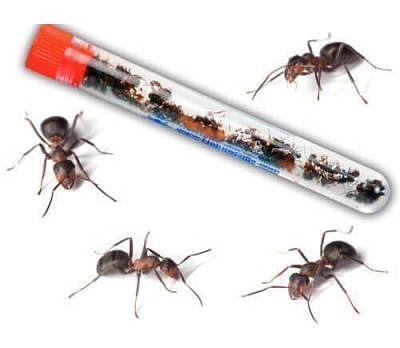 Green Rainforest Ant Farm With Live Ants
Witness the construction of ant-engineered, futuristic buildings dotting the Green Rainforest! Watch as ants dig tunnels, construct chambers, and keep their colony clean. Discover more about these smart creatures while they perform fANTastic feats of engineering inside the ant farm!
The kit includes 1 tube of live harvester ants,

 9

" x 6″ ant farm,

 

clean tunneling sand

, tunnel starter tool, and

 

illustrated 'Ant Watcher's Guide.

One tube contains 25 live red harvester ants plus a few extra, with food.

The sleek new design provides a 3-D view of your hardworking ants.

Please do not order if it's below 40°F or above 85°F in your area.

Our

 

live arrival guarantee

 

will be void if ordered during these temperatures.
$19.95
$19.95
Out of stock
Description
Green Rainforest Ant Farm is the classic educational toy in a fresh skin. Kids can comfortably watch over their ants establish a colony in this secure habitat.
Your Green Rainforest Ant Farm Kit Will Contain
1 tube of 25 red harvester ants

 

9 x 6 inches ant farm
Clean tunneling sand
A tunnel starter tool
Ant Watchers' Guide
Complete Kit for First-time Ant Keepers
Keeping ants is easy with the Green Rainforest Ant Farm Kit. The habitat is a cozy home for your ants. It is break-resistant and escape-proof, making it safe for kids. Clean tunneling sand is provided with the kit so that you don't have to get some yourself. It's free of impurities as well, making it easy for ants to tunnel through it.
A clear connecting tube is provided so that you can connect this ant farm with a similar one and watch ants move between the two to interact with each other. Ant Watchers' Manual contains all the information you'll need to keep your ants healthy and digging for a long time. It also contains several activities of interest that you can observe in your ant farm.
An Addictive, Educational Toy
Ant farms are universally celebrated as educational toys as they bring children closer to nature. Ants teach kids about hard work. Their ability to relentlessly work for the betterment of their colony is bound to brush off on the curious onlookers. Ant farms also help inculcate compassion for other life forms with whom we share this planet.
Since it's the first time that most children see ants construct their colony so clearly, playing with the ant farm becomes addictive. The first thing kids will do in the morning is to check out the progress of their ant colony inside their ant farm. Ant farms have an amazing power to engage children and keep them hooked.
Sleek Design With a Futuristic Theme
Green Rainforest Ant Farm boasts a sleek design which allows a 3-D view of your ants inside the ant farm. You can view them from every angle possible, making it easy for you to observe every activity that takes place inside your ant colony.
The theme of the ant farm is sure to capture the imagination of kids. It also hints at the role of ants as ecosystem engineers. You can weave a story around the theme to engage kids with the ant farm, making them curious about the ants and their underground life.
Recommended for ages 6 years and up, with adult supervision