Out of stock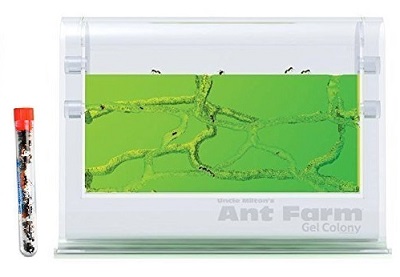 Uncle Milton's Ant Farm Light-Up Gel Colony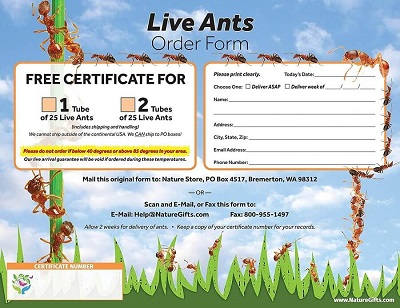 Certificate for Ants Later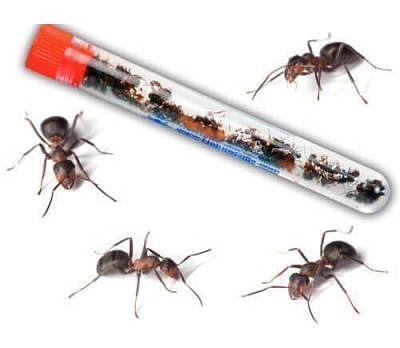 1 Tube of 25 Harvester Ants
Ant Farm Light-Up Gel Colony With Live Ants
Watch your ants dig an elegant network of tunnels in this green gel ant colony from Uncle Milton. The gel takes care of the feeding and water needs of your ants. Just put in the batteries and your ant farm will fill with glittering green light to help you better see how your ants are conspiring to rule the world!
The kit includes live harvester ants or

 

certificate for harvester ants, 5.5

" x 6.5″ x 1″ ant farm, pre-packed clear nutrient-rich gel, magnifier, tunnel starter tool, LED base, and instructions.
The unique green gel contains all the required nutrients to promote a healthy colony. No food or water needed!
One tube contains 25 live red harvester ants plus a few extra, with food.
If purchased with

a certificate for ants, you can redeem your certificate ($5 extra for ant shipping) to receive about 25 harvester ants later.

Batteries Required: Two AAA batteries, not included.
Please do not order if it's below 40°F or above 85°F in your area.

 

Our

 

live arrival guarantee

 

will be void if ordered during these temperatures.
$28.95 – $39.95
$28.95 – $39.95
Kit With Certificate For Harvester Ants LATER
Kit With 1 Tube Of

LIVE

Harvester Ants SENT NOW
Kit With 2 Tubes Of

LIVE

Harvester Ants SENT NOW
Description
Ant Farm Light-Up Gel Colony is a futuristic offering from Uncle Milton which you can use to keep ants and learn about these enigmatic creatures. The nutrient gel replaces sand as the tunneling medium and lends a chic look to your habitat.
Your Ant Farm Light-Up Gel Colony Kit Will Contain
1 – 2 tubes of red harvester ants (25 ants in each tube)
5.5 x 6.5 x 1 inches ant farm
Pre-packed nutrient gel
A tunnel starter tool
A magnifier
Water feeder
LED base
Ant Watchers' Guide
See-Through Translucent Gel
Ant Farm Light-Up Gel Colony contains the green nutrient gel which has been specially derived from seaweed extracts, sugars, and amino acids. This gel is translucent instead of being opaque like sand. It allows you to get the best view possible of your pet ants.
The gel contains a special fungicide to help tackle any future mold problems. At the same time, the gel is also completely non-toxic and safe to be handled by children.
Light Up And Take A Plunge
The LED light module fills your gel ant farm with a pleasant light which makes it even more easy for you to capture everything that your ants do. Two AAA batteries (not included) are required to make the LED base function.
These LED lights paint a very vivid picture of your ants in your ant farm while they remain busy in sustaining their colony. You will get so captivated that you might even lose track of time as you remain fixated in front of your ant farm.
Seriously Keeping Ants While Having Fun
Keeping ants is a fun hobby which comes with a number of responsibilities as you have to take care of your pet ants and make sure that you provide them with the best possible conditions.
Uncle Milton's Ant Farm Light Up Gel Colony makes sure that your ants remain well fed and get ample water. The Ants Watchers' Guide further instructs you in ways that will help you provide a long life to your ants. Unlike conventional pets, there is no extra work required at all.
Recommended for ages 6 years and up, with adult supervision