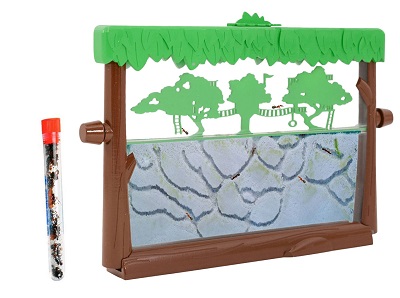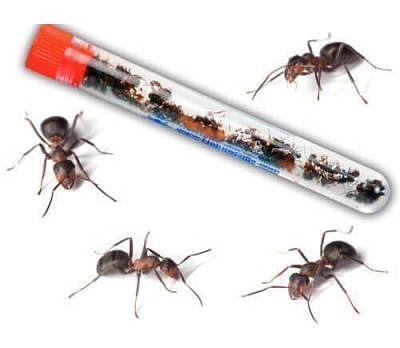 Tree House Ant Habitat With Live Ants
Tree House Ant Habitat is an excellent gift for kids and nature lovers. Watch nature in action as ants dig and build their home inside this neat ant habitat.
The kit includes 1 tube of live harvester ants

, 8.8

" x 6″ ant farm,

 

clean tunneling sand

,

 

clear connecting tube

, tunnel starter tool, and

 

illustrated 'Ant Watcher's Guide.

One tube contains 25 live red harvester ants plus a few extra, with food.
If you purchase more than one of these ant farms, you can connect them together. The ants will travel between the ant farms in their big colony.

Please do not order if it's below 40°F or above 85°F in your area. 

Our

 

live arrival guarantee

 

will be void if ordered during these temperatures.

IMPORTANT: We recommend adult supervision for setting up and managing the ant farm. Please follow the instructions that have been provided with your ants and ant farm. Harvester ants can bite or sting to protect themselves when handled, touched, or provoked. If you're allergic or sensitive to insect bites and stings, take extra caution in setting up and managing the ant farm.
Recommended for ages 8 years and up, with adult supervision
WARNING: CHOKING HAZARD — Small parts. Not for children under 3 years
$19.95

$19.95

Description
Ant farms have been popular among children for a long time and they just never go out of fashion. Tree House Ant Habitat presents this famous educational toy in an interesting style for kids.
Your Tree House Ant Habitat Kit Will Contain
1 tube of 25 red harvester ants

 

8.8 x 6 inches ant farm
Clean tunneling sand
Clear connecting tube
A tunnel starter tool
Ant Watchers' Guide
Child-friendly Habitat
Tree House Ant Habitat has been specially designed to make it completely safe for children. When children are playing, they tend to drop or break things as they're exploring them. The habitat is made out of sturdy materials which make it break-resistant. This prevents minor accidents from unleashing ants inside your home.
The stand of the ant farm is tip-proof as well. The base of the ant farm allows it to have a firm grasp over the resting surface so that it cannot be easily knocked down. Children can easily have fun with this educational toy on their own, without the possibility of an ant escape.
Hassle-free Setup and Management
It's very easy to prep up the Tree House Ant Habitat as a home for your ants. The top of the ant farm can be easily removed to pour in sand and ants. You can also insert the tunnel starter tool through the top hole to make the sand even and start some tunnels.
Apart from feeding and providing water to your ants, there is no hard work involved. The ants will keep digging tunnels and construct their colony inside the ant farm without any help. Make sure not to move or disturb the ant farm once ants have started tunneling because the tunnels can collapse on the ants.
Perfect Gift for Kids
Tree House Ant Habitat is the perfect gift for kids of all ages. Not only is it a lot of fun to watch the various activities that ants perform in their colony, but it's educational as well. The ant farm comes with one tube of live ants so that you don't have to purchase the ants separately. The complete kit can be shipped to the home of the gift receiver with a gift message.
The ant habitat doesn't perish and can be used for several ant colonies. When the initial residents die off, you can take them out along with the sand, reuse the sand, and order more ants. The ant farm can also be re-gifted. This way the ant farm provides more value for money and you won't be contributing to waste by throwing the habitat away.