You cannot add "Purple Butterfly House With Roses" to the cart because the product is out of stock.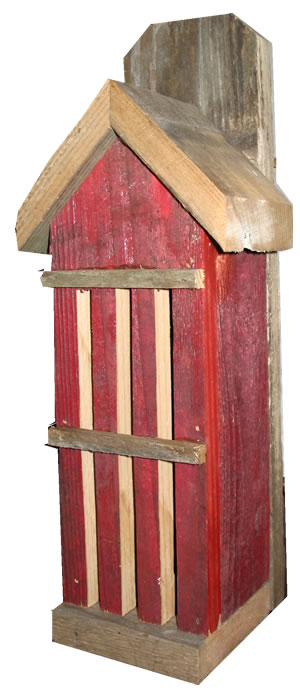 Red Rustic Butterfly House
This cheerful butterfly house (13.5″ x 4″ x 3.5″) is sure to entice butterflies to your garden. Its rustic look will add an air of freshness while its vibrant red color will attract the beautiful pollinators. Provide a nice shelter from harsh weather and predators to the butterflies, giving them a reason to stay in your garden while they make your flowers bloom. Support your local craftsman with this hand-painted house made from recycled materials. 
$19.95
$19.95
Description
This butterfly house uses reclaimed wood with a weathered look
13.5 inches tall with 4 x 3.5 inches base
Hand-painted by a local artist in single color for a minimalistic look
The six entry slots are narrow enough to prevent birds from invading this butterfly haven
Wears well outside to accent the rustic look of the butterfly house
Easily clean and add twigs or butterfly nectar by opening the butterfly house from the side