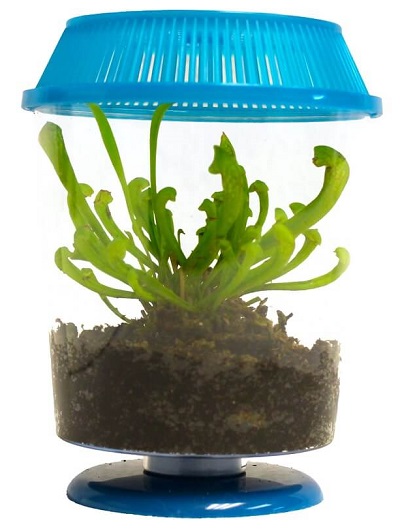 Pitcher Plant Terrarium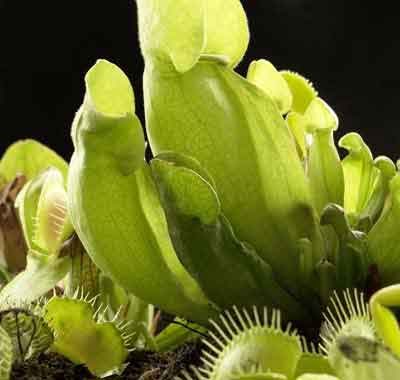 A Pitcher Plant
Pitcher Plant Terrarium Kit
Pitcher Plant Terrarium Kit has been designed to help beginners adopt a carnivorous plant as pet. Pitcher plants stay under 8″ and so they're excellent for terrariums
The kit includes a live pitcher plant, 4.5″ diameter terrarium, sphagnum peat moss, and instructions.

Its leaves create a pitcher-shaped "pitfall trap" with hairs pointing downwards to trap unlucky bugs inside. Your pitcher plant will have at least 2 such pitchers, ready to gobble a bug!

Terrariums

come 

in an

assortment

of

bright

colors

.

Growing to this size takes almost 3 years, so this is a best seller compared to kits that come with seeds.

LIVE ARRIVAL GUARANTEED!

 

Please do not order if it's below 40°F or above 85°F in your area.

 

Our

 

live arrival guarantee

 

will be void if ordered during these temperatures.
Recommended for ages 4 years and up, with adult supervision
WARNING: CHOKING HAZARD — Small parts. Not for children under 3 years
$14.95
$14.95
Description
Pitcher Plant Terrarium Kit contains everything required to maintain a healthy, boggy environment for your pet pitcher plant. The terrarium has been designed to maintain comfortable levels of humidity and sunlight for your green pet. It takes up to 3 years for pitcher plants to turn into fully-grown adults. But the plant that you'll receive will be mature and ready to gobble insects.
Your Pitcher Plant Terrarium Kit Will Contain
Pitcher plant
Terrarium with 4.5 inches diameter
A bag of sphagnum peat moss
Kit Instructions
Keeping Pitcher Plants as Pets
This kit comes with an exotic pitcher plant, which has striking features that lure insects. Pitcher plants have fat trap structures and distinct veins. They may fall under the category of fancy plants but are more than just ornamental pieces. People often compare carnivorous plants with animals and show a desire to keep these insect-eating plants as green pets.
As pets, pitcher plants are low-maintenance and don't require your constant attention. They grow well indoors, provided they are exposed to sunlight from time to time. You can give them frozen fruit flies and watch your little monster devour them with relish. The pitcher plant that you'll receive will have at least two pitchers, mature enough to start catching bugs.
A Perfect Swamp in a Terrarium
Pitcher Plant Terrarium Kit creates a soggy habitat inside the 4.5" diameter terrarium and reproduces the environmental conditions that promote pitcher plants grow. As the terrarium is made from plastic, there is no danger of minerals leeching into the water and damaging the roots, as in the case of clay pots.
The terrarium will reflect and focus sunlight on your pet plant for maximum efficiency, without causing any harm. Unlike glass terrariums, a plastic terrarium doesn't heat up the pitcher plant to unwanted temperatures. Fresh air reaches your plant through the lid and prevents the growth of mildew or any other fungi. Sphagnum peat moss supports the root system of your pitcher plants and allows them to thrive.
Hassle-Free Experience for Beginners
After Cape sundew, pitcher plants are the easiest carnivorous plants for beginners. The terrarium along with the sphagnum peat moss provides the perfect environment for your plants. All you need to do is keep watering them. There is no hard work required at all. Soon your pitcher plant will even outgrow the terrarium!
This starter kit will help you gain practical experience with carnivorous plants. With minimal efforts on your part, your pitcher plant will continue to grow at a fast rate and bloom into a little, green monster.