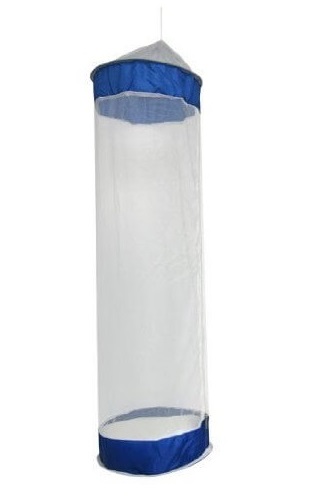 3-Foot Tall Hanging Butterfly Habitat Only
3-Foot Tall Hanging Butterfly Habitat provides the perfect setting to grow your butterflies. Effortlessly watch your butterflies grow inside this see-through net cage. Holds 30+ adult painted lady butterflies. Easily store the habitat away after you complete your project. You can reuse it later to watch the wonderful life cycle of a butterfly again. Butterflies NOT included.
$12.95
$12.95
Description
This butterfly habitat is large enough to house about 36 painted lady butterflies. A zippered entry allows you to access the inside of the habitat. The clear plastic bottom is ideal to keep an eye on any butterfly that likes to remain near the base.
The see-through net provides an unrestricted view of your little friends. Often butterflies fly into the walls of their habitats and harm themselves. The netting provided in this habitat is soft enough to prevent this from happening.
You can also use this habitat to keep and look after other critters. Groups of small bugs that you love can become permanent residents of this habitat.
You may also like…
Caterpillar to Butterfly Kit: Painted Lady Butterflies

Grow your own butterflies and witness their amazing life cycle close-up with the Caterpillar to Butterfly Kit.

The kit includes live caterpillars or certificate for caterpillars, butterfly habitat, water mister, butterfly feeder, sugar, sugar water dropper, coloring page, and instructions.
5 caterpillars are sent in 1 cup and 10 caterpillars are sent as 2 cups of 5.
Order your kit with live caterpillars now

 

OR

 

receive your kit with a FREE certificate which you can redeem to get your caterpillars at a later date.
We guarantee that 3 out of every 5 caterpillars will grow into happy, adult butterflies.
You can release your butterflies outside after observing them if it's over 50°F.
LIVE ARRIVAL GUARANTEED! Please do not order if it's below 40°F or above 85°F in your area.

 

Our

 

live arrival guarantee

 

will be void if ordered during these temperatures.

Recommended for ages 4 years and up, with adult supervision

WARNING: CHOKING HAZARD — Small parts. Not for children under 3 years

$

24.95 –

$

38.95