Out of stock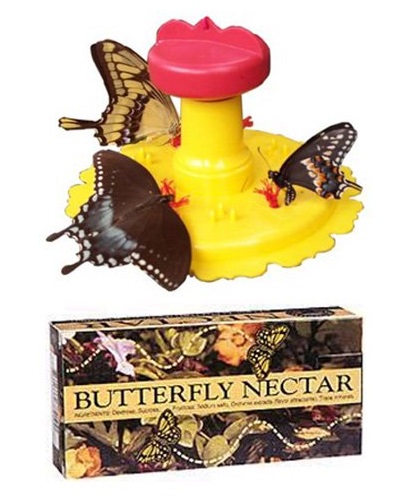 Butterfly Feeder With Food
Attract beautiful butterflies to your flower garden with the help of this butterfly feeder and food. The feeding station is easy to fill and clean. It can hold about 6 ounces of nectar and is also able to accommodate various kinds of fruits. You can hang the butterfly feeder or post mount it. It works best in a section of your garden with some shade.
WARNING: CHOKING HAZARD — Small parts. Not for children under 3 years
$24.95
$24.95
Out of stock
Description
Butterfly Feeder will help you bring colorful butterflies to your garden. Bright yellow and red colors of the feeder easily attract butterflies to the feeding station. The feeder is easy to assemble, fill, and clean. It is 6 inches in diameter.
One box of butterfly nectar has been included to use with the butterfly feeder. It is a specially prepared mix of natural ingredients to entice various species of butterflies. It makes about 3 quarts of butterfly food, enough for several months of feeding.
The butterfly food can be loaded onto the feeder and the feeder can then be placed near a butterfly house. Colorful butterflies will get attracted by the feeder and gather near the butterfly house. They will take shelter in the butterfly house at night or during unfavorable weather and adopt it as their home.
You may also like…
Painted Lady Caterpillar Food

Painted Lady Caterpillar Food is a pre-mixed diet to feed your caterpillars. It can be easily stored in the refrigerator for up to 3 months. You can feed up to 50 painted lady caterpillars and grow them into beautiful butterflies.


$

14.95

Out of stock

Butterfly Food: Butterfly Nectar

Butterfly Nectar contains a healthy, formulated diet for all species of butterflies. You can use a butterfly feeder or some homemade equipment to mount the butterfly food. One box makes about 3 quarts of butterfly food, enough for several months of feeding.

$

4.95 –

$

7.95