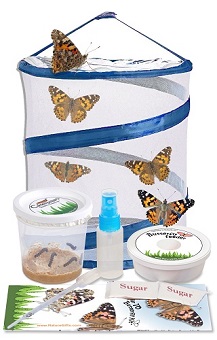 Painted Lady Butterfly Kit With 5 Caterpillars and Small Pop-Up Habitat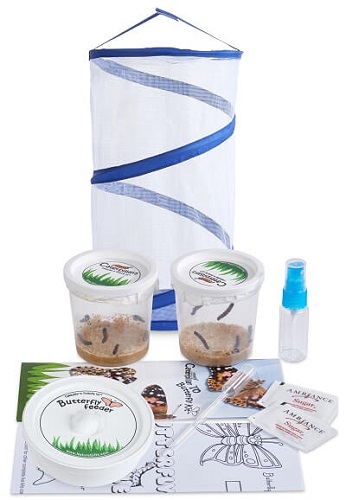 Painted Lady Butterfly Kit With 10 Caterpillars and Large Pop-Up Habitat
Caterpillar to Butterfly Kit: Painted Lady Butterflies
Grow your own butterflies and witness their amazing life cycle close-up with the Caterpillar to Butterfly Kit.
The kit includes live caterpillars or certificate for caterpillars, butterfly habitat, water mister, butterfly feeder, sugar, sugar water dropper, coloring page, and instructions.
5 caterpillars are sent in 1 cup and 10 caterpillars are sent as 2 cups of 5.
Order your kit with live caterpillars now

 

OR

 

receive your kit with a FREE certificate which you can redeem to get your caterpillars at a later date.
We guarantee that 3 out of every 5 caterpillars will grow into happy, adult butterflies.
You can release your butterflies outside after observing them if it's over 50°F.
LIVE ARRIVAL GUARANTEED! Please do not order if it's below 40°F or above 85°F in your area.

 

Our

 

live arrival guarantee

 

will be void if ordered during these temperatures.
Recommended for ages 4 years and up, with adult supervision
WARNING: CHOKING HAZARD — Small parts. Not for children under 3 years
$26.95 – $38.95
$26.95 – $38.95
Kit With 5

LIVE

Caterpillars SENT NOW
With Small (12 Inches) Pop Up Habitat
Kit With 10

LIVE

Caterpillars SENT NOW
With Large (18 Inches) Pop Up Habitat
Kit With FREE Certificate For 5 Caterpillars LATER
With Small (12 Inches) Pop Up Habitat
Kit With FREE Certificate For 10 Caterpillars LATER
With Large (18 Inches) Pop Up Habitat
Description
Witness the fascinating life journey of painted lady butterflies with the Caterpillar to Butterfly Kit. This is the perfect gift for butterfly and nature lovers of all ages. Observe the butterfly life cycle close-up in butterfly-friendly habitats. From caterpillar to butterfly takes around 3 weeks with our butterfly kit. With this kit, you can enjoy rearing butterflies any time of the year, even during winter time!
Your Caterpillar to Butterfly Kit Will Contain
1 – 2 cups of painted lady caterpillars (5 caterpillars in each cup)
Butterfly habitat selected by you
Water mister
Butterfly feeder with cotton wick
2 packets of sugar
A sugar water dropper
Butterfly life cycle coloring page
You can select either of the following habitats for your butterfly starter kit:
Small (12″) Pop-Up Butterfly Habitat
Large (18″) Pop-Up Butterfly Habitat
An Enjoyable Lesson in Metamorphosis
Teaching children about life cycles is the perfect way to help them connect with nature and understand the world around them. Growing butterflies helps them learn about one of the most famous examples of complete metamorphosis. Hungry caterpillars will undergo a rapid transformation and finally emerge as captivating butterflies with completely different features. With this kit, kids can observe all the changes take place in front of them and get a hands-on experience.
This kit is a favorite among children for science projects as well. They can check and report on the progress of their caterpillars each day. They'll be able to tell between the different stages of a butterfly's life cycle. Homeschooling parents can include this kit in their butterfly lesson plan. Growing butterflies teaches children how to handle responsibility as well.
Simplest Way to Raise Butterflies
Growing butterflies with this kit is a fun DIY project. Even if you haven't raised critters before, you can easily grow butterflies with the help of this kit. Using the included supplies you'll be able to provide the best conditions for your caterpillars. To guide you through the process we've provided easy, step-by-step instructions with the kit. You'll breeze through the growing period and soon get fully-grown, pretty painted ladies.
You can watch your caterpillars transform into butterflies through secure, see-through habitats. All our habitats are butterfly-friendly, safe for children, and completely reusable. You can also use them to keep and raise other small bugs.
Relish the Company of Your Little Guests
Butterflies live a short life. Significant changes happen in them quickly as they transform from caterpillars to butterflies. Your caterpillars will take about 3 weeks to grow into butterflies. You can keep the fully-grown butterflies in the habitat for a few days.
While they are with you, you can feed them slices of freshly cut fruit or sugar water. You can continue to observe their unique behavior – they taste with their feet and drink with their tube-like mouth! After you've enjoyed their companionship, you can release them outside into the lap of nature when the temperature is above 50°F.