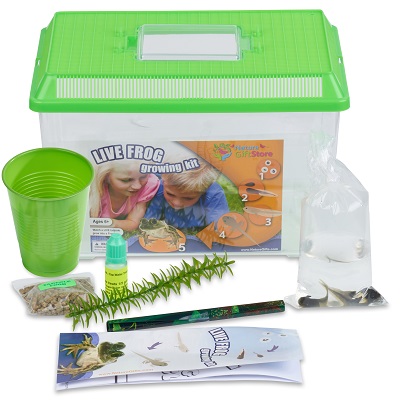 Tadpole to Frog Kit With Large Habitat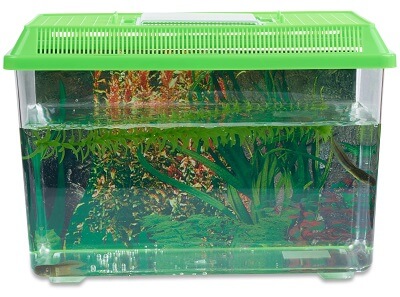 Large Tadpole Habitat After Set Up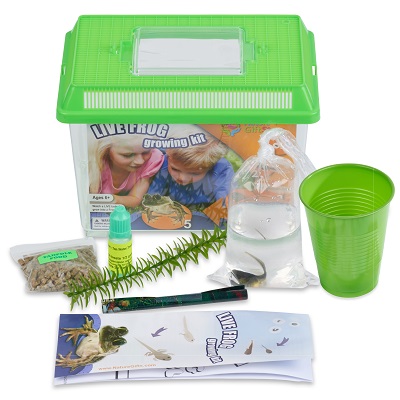 Tadpole to Frog Kit With Standard Habitat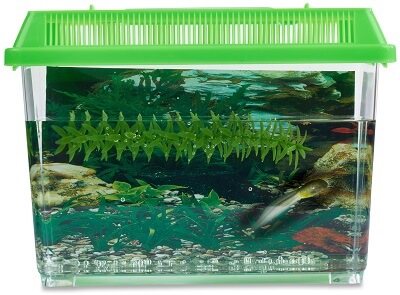 Standard Tadpole Habitat After Set Up
Tadpole to Frog Kit
Tadpole to Frog Kit offers children the unique opportunity to grow frogs from tadpoles. This is a great way to teach kids about the frog life cycle and metamorphosis.
Everything you need is included in the kit – live leopard frog tadpole(s) or certificate for tadpoles, tadpole habitat, tadpole food, water treatment solution, water change cup, plastic plant, life-cycle coloring page, free colorful background, and instructions.
Our standard kit comes with a 1-gallon habitat 

(

9″ x 6″ x 7″)

while our large kit has a 2-gallon habitat

(

12″ x 7″ x 8″)

. The habitat is a safe and healthy home for the tadpole, shipped directly to your home.
Order your kit with live tadpole(s) now OR receive your kit with a FREE certificate which you can redeem to get your tadpole(s) at a later date.
You can order our tadpole kits any time of year – even as a fun winter project!

Terrariums

come 

in an

assortment

of

bright

colors

.
Many of our tadpoles are developing their back legs during this time of the year. Your tadpole may come with tiny back legs.
LIVE ARRIVAL GUARANTEED! 

Please do not order if it's below 40°F or above 85°F in your area.

Our live arrival guarantee will be void if ordered during these temperatures.
Recommended for ages 6 years and up, with adult supervision
WARNING: CHOKING HAZARD — Small parts. Not for children under 3 years
$24.95 – $38.95
$24.95 – $38.95
Kit With 1

LIVE

Tadpole SENT NOW
With Standard 1 Gallon Habitat
Kit With FREE Certificate For 1 Tadpole LATER
With Standard 1 Gallon Habitat
Kit With 2

LIVE

Tadpoles SENT NOW
With Large 2 Gallon Habitat
Kit With FREE Certificate For 2 Tadpoles LATER
With Large 2 Gallon Habitat
Description
Tadpole to Frog Kit is a fascinating life science project which offers a bounty of fun. This is a unique gift for nature lovers of all ages as they explore nature's design for life. With this kit, you can enjoy growing tadpoles all year round, even winter time!
Your Tadpole to Frog Kit Will Contain
1 – 2 leopard frog tadpoles
Tadpole habitat selected by you
Tadpole food
Water treatment solution
Water change cup
Floating plastic plant
Frog life cycle coloring page
Free colorful background
You can select either of the following habitat sizes for your tadpole starter kit:
Standard 1-gallon habitat (

9″ x 6″ x 7″) 

with 1 leopard frog tadpole
Large 2-gallon habitat (

12″ x 7″ x 8″) 

with 2 leopard frog tadpoles
Nature's School Opens for All
These days children are increasingly becoming less connected with the world around them. At a time when mobile screens and virtual world are taking over their free time, something simple yet exciting such as growing their own frogs from tadpoles brings them closer to nature. The tadpoles will take about 12-16 weeks to undergo metamorphosis as they grow into frogs. Their legs will sprout, mouths will grow wider, and tails will shrink to disappear. Kids will get to see this amazing transformation take place in front of them.
This kit is a fun choice for science projects as well. Understanding the topic of life cycle becomes easier for kids with such activity-based learning. Actively participating in taking care of the tadpoles and helping them grow into frogs teaches them about responsibility. Instead of a boring lesson filled with facts, it becomes an adventure with hands-on action.
Complete Kit That Makes All Tasks Easier
Raising tadpoles becomes easy with the help of the included accessories and instructions. The habitat is secure and will provide a cozy environment that'll encourage your tadpole's growth. Water treatment solution and water change cup will help you keep the habitat clean and remove unwanted chemicals from the habitat. The habitat is completely reusable as well, should you want to grow frogs again in the future.
Floating plastic plant will provide a nice roosting spot for your frogs. The frogs might also nibble at the algae that sometimes grows on the plant. The coloring page will help children understand the difference between the stages of frog life cycle. Instructions are simple enough and anyone can start raising frogs with the help of this kit without any previous experience.
Reap the Reward of Your Efforts
Growing animals brings a sense of accomplishment to children. They will be excited to show and tell others about their pet frogs, the fascinating frog life cycle, and how they reared them on their own from tadpoles. Leopard frogs make for excellent starter pets for children as well. They can continue to take care of their pet frogs after the growing period is over. Your leopard frogs can live up to 5 years if you continue to carefully tend to their needs.
After some time, move the adult frogs to a 5-gallon or 10-gallon terrarium. You can grow more leopard frog tadpoles or tadpoles of a different kind using the habitat that comes with your kit later.