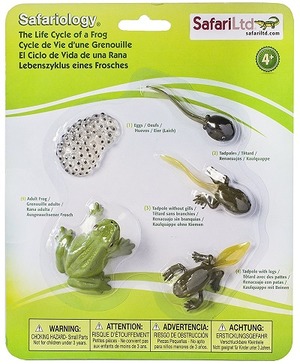 Frog Life Cycle Figurines
Frog Life Cycle Figurines are a great visual aid to teach children about the life cycle of a frog. It is a five-piece set which contains eggs, tadpole with a tail, tadpole with back legs and a tail, a froglet, and an adult frog. These durable replicas have been meticulously detailed to even pass for the living counterparts. The figurines are an excellent accessory to add to the tadpole growing experience. Turn classroom or homeschooling education into an interactive activity for the kids.
Recommended for ages 4 years and up, with adult supervision
WARNING: CHOKING HAZARD — Small parts. Not for children under 3 years
$10.95
$10.95
Description
Frog Life Cycle Figurines are an effective toy to teach children about metamorphosis and frog life cycle. Instead of reading out frog facts to them or showing them images of frogs, you can give them a 3-D experience with these figurines and add the dimension of touch to engage them.
The figurines are large enough for the small hands of children. They have a sturdy finish to withstand any wear and tear that they might have to endure during playtime. The details present on the figurines make them look almost as authentic as the real thing.
The different stages of frog life cycle can be easily explained with the help of these figurines. The distinguishing features of each stage have been carefully replicated. Children can identify these features and track the changes that take place as the frogs develop from eggs.