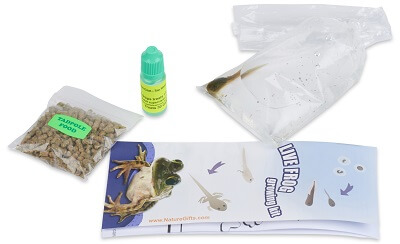 1 Leopard Frog Tadpole With Supplies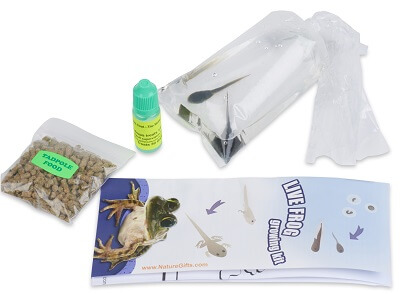 2 Leopard Frog Tadpoles With Supplies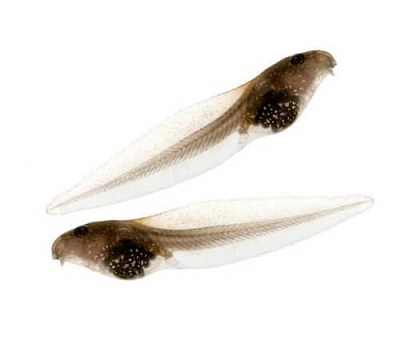 Leopard Frog Tadpoles Close-Up
Live Leopard Frog Tadpoles
Ready to grow a frog again? Raise leopard frog tadpoles into happy adult frogs and enjoy their friendly company for years. Many of our tadpoles are developing their back legs during this time of the year. Your tadpole may come with tiny back legs.
Tadpole food and water treatment solution are included with your purchase. Simple instructions are also provided to help you during the tadpole-growing process.
Each leopard frog tadpole needs at least one gallon of water.
Do not put your tadpole in a habitat with an adult frog because the frog may consider it food!
LIVE ARRIVAL GUARANTEED!

Please do not order if it's below 40°F or above 85°F in your area.

Our live arrival guarantee will be void if ordered during these temperatures.
Recommended for ages 4 years and up, with adult supervision
WARNING: CHOKING HAZARD — Small parts. Not for children under 3 years
$7.95 – $12.95
$7.95 – $12.95
1

LIVE

Leopard Frog Tadpole SENT NOW
2

LIVE

Leopard Frog Tadpoles SENT NOW
1

LIVE

Tadpole With

BACK LEGS

Sent Now
Description
Explore the amazing life cycle of your leopard frog tadpoles and watch them transform into croaking frogs. Your leopard frog tadpoles will go through several changes while their body develops during a 12-16 week period. The resulting healthy frogs can live for 5 years or more in proper habitat conditions.
An Easy Exercise for Beginners
Growing frogs from tadpoles is a fun animal-raising project for children and first timers. It is an excellent way to teach kids about responsibility and engage them with the natural world around them. Leopard frog tadpoles are easy to care for. They adapt well to most of the conditions that you can provide them in captivity. Growing them is a low-cost activity with plenty of fun.
There is no need for accessories such as heaters to help your tadpoles transform into healthy frogs. A room temperature of 65°F to 78°F works best. Their diet is also simple. You can feed them the tadpole food pellets that are included. When you run out of tadpole food, you can buy goldfish food from your local pet store. Your tadpoles will not make a fuss!
Learn More About Your Young Swimmers
Leopard frog tadpoles are nocturnal creatures. They will be active swimmers and float around the habitat unless startled. You can observe them every day and check their progress as they change into froglets and then into frogs. Their tails will shrink and legs will develop, with the back legs sprouting first.
Not only does their body change over time but their behavior also changes. This provides an excellent opportunity for children to learn about the frog life cycle. The practical experience of raising them and witnessing the changes helps kids understand the process of metamorphosis even better.
Gain a Ribbity Friend
Your young tadpoles will grow into healthy pet frogs in about 12-16 weeks. You can continue to take care of your pet frogs after their growing period and enjoy their company. While you cannot teach them tricks or take them for a walk, they will remain active throughout their life.
Adult leopard frogs can grow up to 5 inches in size. They appear slender green to brown in color with a pretty pattern of spots. You can offer your leopard frogs crickets or worms and watch them greedily relish their meal. Keep your adult frogs in a 10-gallon or bigger terrarium. This will allow them to swim comfortably and you will be also able to observe their antics easily.