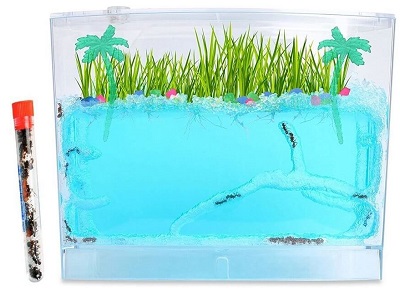 Ecosystem Ant Habitat With Live Ants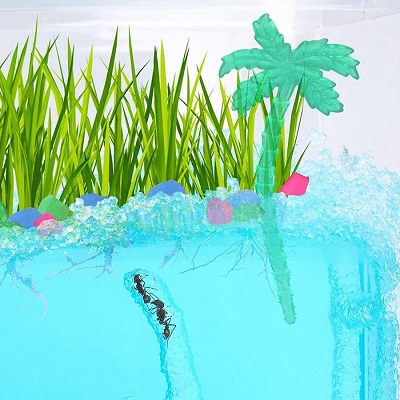 Close-Up of Ecosystem Ant Habitat
Ecosystem Ant Habitat Kit Supplies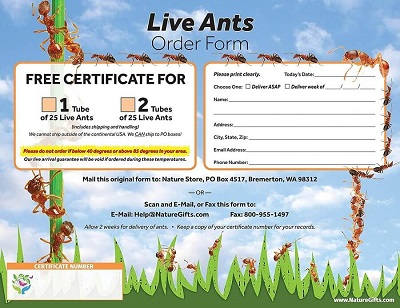 Certificate for Ants Later
Ecosystem Ant Habitat With Live Ants
Ecosystem Ant Habitat kit turns your ant farm into a complete ant ecosystem. This amazing gel eco-terrarium reproduces life in a secure habitat. With the nutrient gel, you won't have to worry about feeding your ants. It provides them all the food and water they need. This unique gel is also perfect to grow plants.
The kit includes live harvester ants or

 

certificate for harvester ants, 6.5

" x 5.5″ x 1.5″ curved ant farm, clear nutrient-rich gel, magnifier, tunnel starter tool, grass seeds, decorative palm trees and rocks, and instructions.
The unique gel is perfect for the ants to dig their tunnels and provides all their food and water.

The gel also allows you to grow seeds (provided) and watch your ants work their way around the roots. 

Kids can decorate the habitat with palm trees and colorful rocks before adding the ants.
One tube contains 25 live red harvester ants plus a few extra, with food.

Order your kit with live ants now 

OR

 receive your kit with a FREE certificate which you can redeem to get your ants at a later date.

Please do not order if it's below 40°F or above 85°F in your area.

 

Our

 

live arrival guarantee

 

will be void if ordered during these temperatures.

IMPORTANT: We recommend adult supervision for setting up and managing the ant farm. Please follow the instructions that have been provided with your ants and ant farm. Harvester ants can bite or sting to protect themselves when handled, touched, or provoked. If you're allergic or sensitive to insect bites and stings, take extra caution in setting up and managing the ant farm.
Recommended for ages 8 years and up, with adult supervision
WARNING: CHOKING HAZARD — Small parts. Not for children under 3 years
$24.99 – $29.99
$24.99 – $29.99
Kit With 1 Tube Of

LIVE

Harvester Ants SENT NOW
Kit With 2 Tubes Of

LIVE

Harvester Ants SENT NOW
Kit With FREE Certificate For 1 Tube Of Harvester Ants LATER
Description
Ecosystem Ant Habitat is a fun and educational toy which sparks curiosity in kids. They can watch ants build a bustling ant colony and plants develop roots in the wonderful gel eco-terrarium. The fascinating behavior of ants as they interact with the plants and each other will keep the kids glued to this delightful toy.
Your Ecosystem Ant Habitat Kit Will Contain
1 – 2 tubes of red harvester ants (25 ants in each tube)
6.5 x 5.5 x 1.5 inches ant farm
Pre-packed light blue nutrient-rich gel
A magnifier
A tunnel starter tool
Grass seeds
Decorative palm trees
Decorative rocks
Kit Instructions
Everything You Need for a Fulfilling Experience
Ecosystem Ant Farm kit comes with a number of helpful accessories. Children can decorate and personalize their ant farm with colorful rocks and palm trees that have been included. You can add other items that you would like the ants to interact with, too. The grass itself will grow into a beautiful design by nature.
Healthy ants are included with the kit so that you don't have to wait for days with an empty ant farm. The magnifier will help kids take a close look at their ants to understand their bodies and interactions better. Simple instructions are included to help kids get started and make full use of this enjoyable learning opportunity.
New Age of Gel Ant Farms is Here
Gel ant farms have been popular because of their stylish space-age look and clear view-through gel. In addition to these features, Ecosystem Ant Habitat kit also supports a small but complete ecosystem. It gives you a peek into the life of ants in their natural environment.
The nutrient-rich gel provides food and water to your ants while helping the grass to grow. The grass will transform the top surface of the gel into a foraging area for your ants. Your ants will often come to the surface to search for new objects to interact with.
Watch the Fascinating Ant-Plant Interaction
The grass seeds will grow into plants and develop a complex root system. Ants help the grass to grow by tending to their roots. You will be able to observe the ants work their way around the roots through the translucent light blue gel.
In return, the grass will provide foraging opportunities to your ants. The development of the ant colony and grass will go hand-in-hand. Kids will be excited to check the progress of their ant ecosystem every day. You can observe the ants with them and learn more about these wonderful creatures. There is no extra work involved at all.