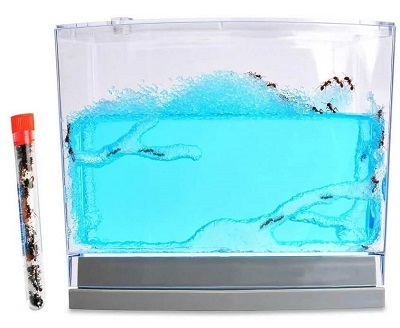 Gel Ant Habitat With Live Ants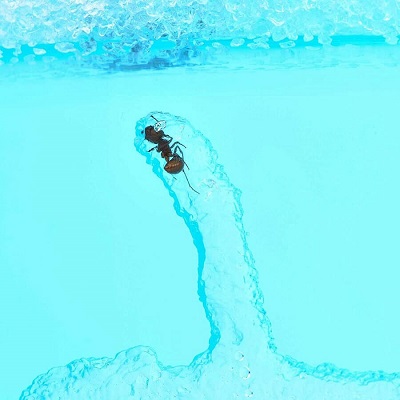 Harvester Ant Making Tunnels in Nutrient-rich Gel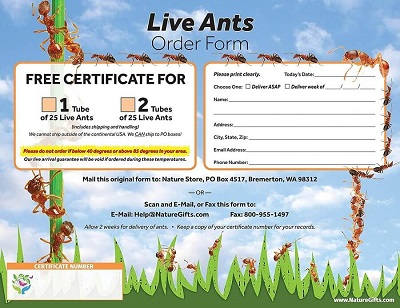 Certificate for Ants Later
Gel Ant Habitat With Live Ants
Gel Ant Habitat provides an exciting opportunity to explore the underground world of ants. This self-contained ant environment kit includes everything you'll need to start keeping ants. It is a perfect starting point for those looking to pick up the entertaining hobby of ant-keeping.
The kit includes live harvester ants or

 

certificate for harvester ants, 6.5

" x 5.5″ x 1.5″ curved ant farm, pre-packed clear nutrient-rich gel, magnifier, tunnel starter tool, and instructions.
This ant farm is based on experiments conducted by NASA scientists to test ants in space. The unique gel contains all the required nutrients to promote a healthy colony. No food or water needed!
One tube contains 25 live red harvester ants plus a few extra, with food.

Order your kit with live ants now 

OR

 receive your kit with a FREE certificate which you can redeem to get your ants at a later date.

Please do not order if it's below 40°F or above 85°F in your area.

 

Our

 

live arrival guarantee

 

will be void if ordered during these temperatures.

IMPORTANT: We recommend adult supervision for setting up and managing the ant farm. Please follow the instructions that have been provided with your ants and ant farm. Harvester ants can bite or sting to protect themselves when handled, touched, or provoked. If you're allergic or sensitive to insect bites and stings, take extra caution in setting up and managing the ant farm.
Recommended for ages 8 years and up, with adult supervision
WARNING: CHOKING HAZARD — Small parts. Not for children under 3 years
$24.99 – $29.99
$24.99 – $29.99
Kit With 1 Tube Of

LIVE

Harvester Ants SENT NOW
Kit With 2 Tubes Of

LIVE

Harvester Ants SENT NOW
Kit With FREE Certificate For 1 Tube Of Harvester Ants LATER
Description
Keeping ants as pets has retained its charm as an offbeat hobby over the years. Now anyone can start their own ant farm in a jiffy with the help of Gel Ant Habitat. Instead of just filling your free time with a leisure activity, make it worthwhile and entertaining with this gel ant farm.
Your Gel Ant Habitat Kit Will Contain
1 – 2 tubes of red harvester ants (25 ants in each tube)
6.5 x 5.5 x 1.5 inches ant farm
Pre-packed blue nutrient-rich gel
A magnifier
A tunnel starter tool
Kit Instructions
Designed for Your Viewing Comfort
Gel Ant Habitat boasts a sleek, curved shape which allows you to observe your ants from all angles. The habitat is made from cloudless acrylic plastic, which is crystal clear for good visibility. It comes pre-packed with translucent blue gel which makes it easy for you to watch your ants all the time, unlike in sand ant farms.
Use the magnifier to bring your ants into clear focus. You will be able to observe and note every feature on their tiny bodies. In this see-through gel ant farm, your ants won't be able to keep any secrets from you!
Durable Ant Farm With Amazing Reuse Value
Gel Ant Habitat is made sturdy enough to last a lifetime of fun. The firm base makes sure that there is never any accidental tipping. The top lid safely secures all your ants inside the ant habitat, making it escape-proof. The nutrient-rich gel also contains fungicides to prevent the formation of any molds. At the same time, it is completely non-toxic and safe.
You can reuse this gel ant farm many times over after your initial ant colony expires. Once you repopulate your ant farm with more ants, the new inhabitants will start using the old tunnels. and chambers. They will also dig some new ones and make the habitat their home.
An Inexpensive and Delightful Hobby
Gel Ant Habitat is a neat toy that will help you get started with the rewarding hobby of keeping ants. Having ants as pets costs much less than most conventional pets. The work required for their upkeep has been cut down substantially thanks to the nutrient-rich gel.
Become part of an ever-growing community of enthusiasts who have found great joy in keeping ants. Ant-keeping helps you escape boredom while bringing you closer to nature.