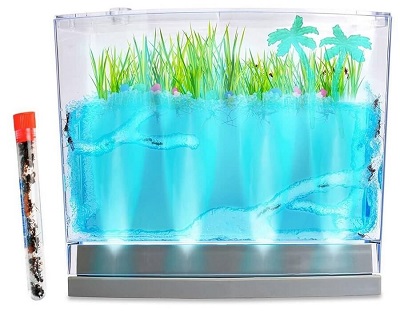 Lighted Ecosystem Ant Habitat With Live Ants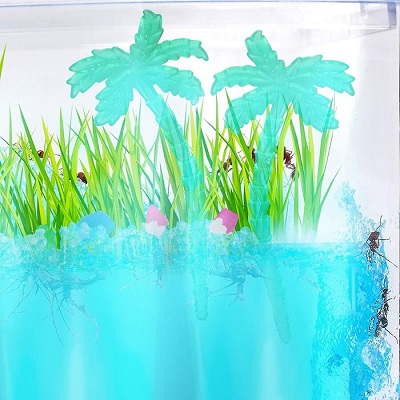 Close-Up of Lighted Ecosystem Ant Habitat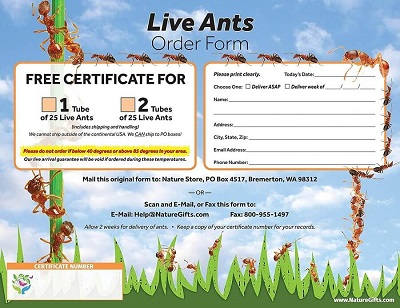 Certificate for Ants Later
Lighted Ecosystem Ant Habitat Kit Supplies
Lighted Ecosystem Ant Habitat With Live Ants
With the Lighted Ecosystem Ant Habitat, you can observe the complete ant ecosystem come to life in front of your eyes. This eco-themed, illuminated ant farm is an exciting gift for nature lovers of all ages and those with a curious mind.
The kit includes live harvester ants or

 

certificate for harvester ants, 6.5

" x 5.5″ x 1.5″ curved ant farm, clear nutrient-rich gel, magnifier, tunnel starter tool, grass seeds, decorative palm trees and rocks,

removable LED base with 110V AC power adapter,

 and instructions.

Bright blue LED bulbs light up the ant tunnels for better visibility!

The unique gel is perfect for the ants to dig their tunnels and provides all their food and water.

The gel also allows you to grow seeds (provided) and watch your ants work their way around the roots. 

Kids can decorate the habitat with palm trees and colorful rocks before adding the ants.

One tube contains 25 live red harvester ants plus a few extra, with food.

Order your kit with live ants now 

OR

 receive your kit with a FREE certificate which you can redeem to get your ants at a later date.

Please do not order if it's below 40°F or above 85°F in your area.

 

Our

 

live arrival guarantee

 

will be void if ordered during these temperatures.

IMPORTANT: We recommend adult supervision for setting up and managing the ant habitat. Please follow the instructions that have been provided with your ants and ant habitat. Harvester ants can bite or sting to protect themselves when handled, touched, or provoked. If you're allergic or sensitive to insect bites and stings, take extra caution in setting up and managing the ant habitat.
Recommended for ages 8 years and up, with adult supervision
WARNING: CHOKING HAZARD — Small parts. Not for children under 3 years
CAUTION: ELECTRIC TOY. Not recommended for children under 8 years of age. As with all electrical products, precautions should be observed during handling and use to prevent electric shock
$29.99 – $34.99
$29.99 – $34.99
Kit With 1 Tube Of

LIVE

Harvester Ants SENT NOW
Kit With 2 Tubes Of

LIVE

Harvester Ants SENT NOW
Kit With FREE Certificate For 1 Tube Of Harvester Ants LATER
Description
Ant farms are educational as well as amusing enough to everyone captivated for a long time. Lighted Ecosystem Ant Habitat comes pre-packed with blue nutrient-rich gel which serves as the tunneling medium. Light up your ants' colony in this escape-proof gel ant farm and learn about them as they adapt to their new habitat.
Your Lighted Ecosystem Ant Habitat Kit Will Contain
1 – 2 tubes of red harvester ants (25 ants in each tube)
6.5 x 5.5 x 1.5 inches ant farm
Pre-packed light blue nutrient-rich gel
A magnifier
A tunnel starter tool
Grass seeds
Decorative palm trees
Decorative rocks
Removable LED base with 110V AC power adapter
An Eco-Centric Gel Ant Farm
Lighted Ecosystem Ant Habitat comes with grass seeds which can be planted in the nutrient-rich gel medium. You create an ecosystem inside your ant habitat in which ants and grass thrive together. Both of them get their energy from the light blue gel which has been derived from sugars, amino acids, and seaweed extracts.
Such a setup makes it easier for kids to understand how ants live in the natural world and why they are known as ecosystem engineers. The nutrient-rich gel is completely non-toxic and reusable for a number of ant colonies.
Decorate Your Ant Habitat's Outworld
The surface of the gel medium in your Lighted Ecosystem Ant Habitat is known as the outworld. It represents the natural world, outside the colony, for your ants. Ants forage for food and make their graveyard site on this outworld, just like in the wild.
After planting the grass, kids can decorate the outworld with colorful rocks and decorative palm trees that have been provided in order to personalize this region.
Investigating Ants In Their Natural Environment
Ant farms are usually kept in a dark place so that the absence of an external light can make the ants feel like home in their habitat. Soft blue light of the Lighted Ecosystem Ant Habitat helps you to observe your ants in such a condition without disturbing their natural way of life.
The curved shape of the habitat makes it easier for you to keep a close eye on all your ants while the magnifier allows you to follow them as they dig tunnels, sleep and eat. This ant farm kit has been meticulously prepared to take care of everything while you enjoy keeping ants.