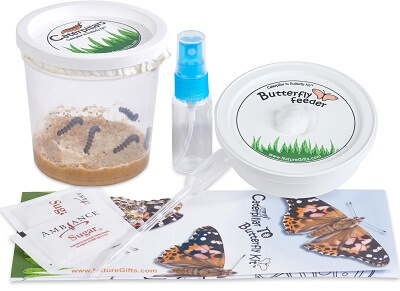 Painted Lady Caterpillar Refill Kit With 5 Caterpillars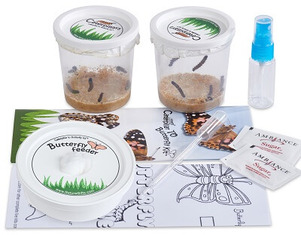 Painted Lady Caterpillar Refill Kit With 10 Caterpillars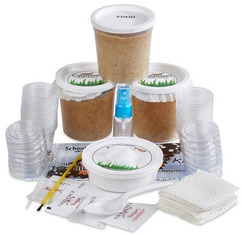 Painted Lady Caterpillar Refill Kit With 32 Caterpillars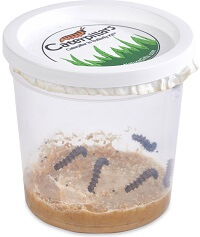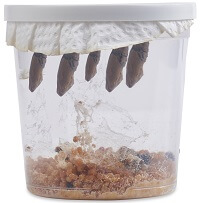 Painted Lady Caterpillar Refill Kit
Are you ready to rear butterflies again? Painted Lady Caterpillar Refill Kit will allow you to grow butterflies one more time and enjoy the wonderful process of metamorphosis. Everything you'll need for a successful butterfly-growing project has been provided in this kit, except for the butterfly habitats.
The kit includes caterpillars, water mister, butterfly feeder, sugar, sugar water dropper, coloring page, and instructions.
5 caterpillars are sent in 1 cup, 10 caterpillars are sent as 2 cups of 5, and school-size of 32 caterpillars are sent with 32 little cups for the kids.
We guarantee that 3 out of every 5 caterpillars will grow into happy, adult butterflies.

You can release your butterflies outside after observing them if it's over 50°F.

LIVE ARRIVAL GUARANTEED!

 

Please do not order if it's below 40°F or above 85°F in your area.

 

Our

 

live arrival guarantee

 

will be void if ordered during these temperatures.
How to Make an Easy Butterfly Cage
Recommended for ages 4 years and up, with adult supervision
WARNING: CHOKING HAZARD — Small parts. Not for children under 3 years
$14.85 – $56.95
$14.85 – $56.95
5

LIVE

Caterpillars: REFILL ONLY (Everything Except The Habitat)
10

LIVE

Caterpillars: REFILL ONLY (Everything Except The Habitat)
32

LIVE

Caterpillars: School Size REFILL ONLY (Everything Except The Habitat)
Description
Painted Lady Caterpillar Refill Kit lets you have a go at butterfly-growing fun once again. Raise your own butterflies with the help of detailed instructions and included accessories. Each cup contains about 5 painted lady caterpillars. For the Caterpillar to Butterfly Kit for School, we send 32 caterpillars in 1 cup.
Your Painted Lady Caterpillar Refill Kit Will Contain
5 or 10 or 32 painted lady caterpillars
Water mister
Butterfly feeder with cotton wick
2 packets of sugar
A sugar water dropper
Butterfly life cycle coloring page
Kit Instructions
Unique Gift to Share Nature's Wonders
The life cycle of a butterfly is a beautiful example of metamorphosis. The opportunity to grow butterflies is a wonderful gift for nature lovers of all ages. While raising butterflies, kids always get excited to watch their caterpillars grow bigger by the day. Growing butterflies and learning about life cycles helps them connect with our world and engages them with nature.
This practical experience also fills them with a sense of accomplishment as they get a chance to raise pretty painted ladies from small caterpillars. Taking care of their caterpillars and providing them everything they need to transform also teaches kids about responsibility.
Step-by-step Instructions and Helpful Accessories
The butterfly refill kit comes with detailed instructions to guide you. Growing butterflies will be a child's play. Caterpillars will take about 3 weeks to grow into butterflies. The instructions cover all the stages of their life cycle and how to take care of them during every stage.
The mister helps in creating a gentle mist for your butterflies inside their habitat. The resulting humid environment promotes their growth. You can enjoy feeding sugar water to your butterflies with the help of butterfly feeder. You can also offer them slices of freshly cut fruits.
Satisfaction Guaranteed for Nature Lovers
Butterfly raising projects are exciting opportunities for nature lovers. After the project ends, you can continue to feed and observe your butterflies in their habitat. There is much that can be learned from adult butterflies as well. Did you know that they taste with their feet? It's amazing and a little funny to watch this happen when you put a sugar water drop near their feet inside the habitat.
As butterflies live for a short period of time, we recommend releasing them outside when the temperature outside is above 50°F. This will allow them to freely live out the rest of their life in nature. They might linger and happily spend some time sipping on nectars around your house before flying away.