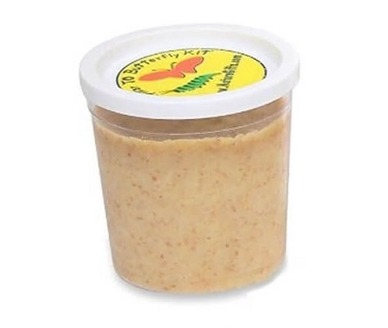 Painted Lady Caterpillar Food
Painted Lady Caterpillar Food is a pre-mixed diet to feed your caterpillars. It can be easily stored in the refrigerator for up to 3 months. You can feed up to 50 painted lady caterpillars and grow them into beautiful butterflies.

$14.95
$14.95
Description
Painted Lady Caterpillar Food contains a healthy diet which is irresistible to painted lady caterpillars. Populate your garden with your own butterflies by rearing them on this food. Your caterpillars will happily consume this special mixture and grow bulkier. A single cup weighs about 8 oz. and can feed up to 50 hungry painted lady caterpillars.
Painted lady butterflies sometimes mate and reproduce inside the butterfly habitat. They lay eggs which hatch into caterpillars and the life cycle gets started again. These caterpillars will also need food to fatten up for their splendid transformation. Painted lady Caterpillar Food is an excellent source of nutrition for these caterpillars.