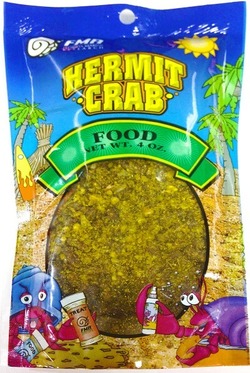 Extra Hermit Crab Food
Hermit Crab Food contains a healthy diet to satisfy all the nutritional needs of your pet hermit crabs. Vitamin-enriched pellets serve as an excellent food choice for all land hermit crabs. This 4 oz bag contains enough food to keep your hermit crabs satisfied for a few months on a regular basis.
$4.95
$4.95
Description
Hermit Crab Food contains an assorted diet which is rich in crude protein to help your hermit crabs grow healthier and happier. This nutritional blend has been composed in the form of pellets and can be served as the standard meal item. Hermit crabs like to enjoy diverse tasting foods and this mixture is sure to excite them with its varying flavors. It is advisable to moisten the pellets for best results.
About a small pinch of food should be given to each hermit crab. Any uneaten food should be replaced daily in order to keep the habitat clean. As your hermit crabs grow, their diet will increase and they will require more food to last them before the next meal. Hermit Crab Food should be stored in a cool, dry place to prevent it from going stale.