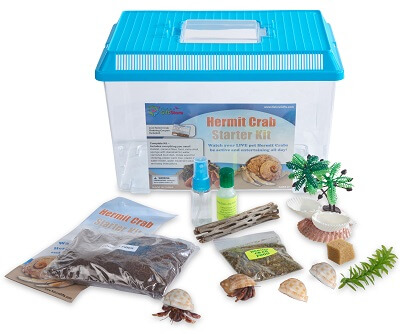 Hermit Crab Starter Kit With 2 Live Crabs Shipped with Kit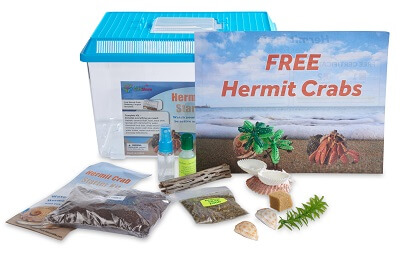 Hermit Crab Starter Kit With FREE Certificate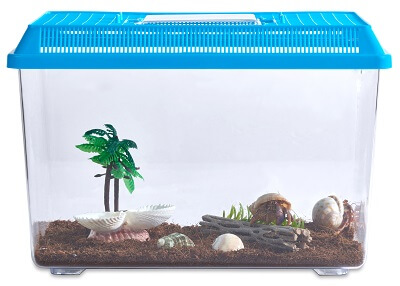 Hermit Crab Habitat After Set Up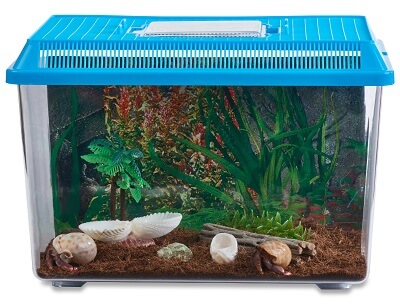 Hermit Crab Habitat After Set Up (With Background)
Hermit Crab Starter Kit
Hermit Crab Starter Kit allows you to keep adorable purple pincher hermit crabs as your pets. The habitat kit comes with two live hermit crabs and a number of items that you'll require to keep your hermit crabs happy and healthy, including toys for your crustacean pets.
This is a wonderful way to introduce children to the responsibilities of owning a pet and the fun that comes with it. Have fun learning about hermit crabs as you set up their habitat, take care of them, and connect with your cute little pets.
Everything you need is included in the kit

 

– live purple pincher hermit crabs or certificate for purple pincher hermit crabs, 2-gallon (

12″ x 7″ x 8″

) crab habitat, extra shells, hermit crab food, water treatment solution, water mister, coconut fiber, cholla wood log, plastic palm tree, plastic plant, water clamshell with sponge, feeder clamshell, and instructions.
The habitat is a safe and healthy home for the hermit crabs, shipped directly to your home. Lids are an assortment of bright colors.
Your hermit crabs shells will be very pretty – they'll arrive cleaned and polished.
Order your kit with live hermit crabs now

 

OR

 

receive your kit with a FREE certificate which you can redeem to get your hermit crabs at a later date.
You can order our hermit crab kits any time of year – even as a fun winter project!
LIVE ARRIVAL GUARANTEED! Please do not order if it's below 40°F or above 85°F in your area.

 

Our

 

live arrival guarantee

 

will be void if ordered during these temperatures.
Recommended for ages 4 years and up, with adult supervision
WARNING: CHOKING HAZARD — Small parts. Not for children under 3 years
$34.95 – $38.95
$34.95 – $38.95
Kit With 2

LIVE

Hermit Crabs SENT NOW
Kit With FREE Certificate For 2 Hermit Crabs LATER
Description
Hermit Crab Starter Kit lets children keep cute purple pincher hermit crabs as pets. It is a wonderful way to teach kids about responsibility as they learn how to take care of their pets. Create a convenient home for your hermit crabs and keep them happy with the help of the included accessories.
Your Hermit Crab Starter Kit Will Contain
2 purple pincher hermit crabs
2-gallon crabitat (12 x 7 x 8 inches)
2 extra shells
Hermit crab food
Water treatment solution
Water mister
Bag of coconut fiber
Exercise cholla wood log
Plastic palm tree
Plastic plant
Water clamshell with sponge
Feeder clamshell
An Educational Starter Pet Kit
Hermit crabs bring out raging excitement in kids because they are so unique and different from usual animals. As pets, hermit crabs can teach children about responsibility. Kids will learn how to take care of their pets, provide for them, and have fun with them. All these activities will make them appreciate life on earth and connect them with nature.
This starter kit will inspire curiosity in children about the diversity of life on earth and encourage them to explore the various forms of life on our planet. Instead of teaching kids about animals using bland text and images, you can help them learn about the natural world around them with the help of this hands-on kit. It's a compact and inexpensive item with several useful accessories and easy instructions.
Setting Up A Convenient Crabitat
Purple pincher hermit crabs prefer to spend most of their life on land but they breathe through gills. A water mister has been provided to create a humid environment so that their gills remain damp.  The crabitat comes with a vented lid which allows a small draft of air inside the crabitat. Water treatment solution clears out the harmful chemicals from the water.
Molting is necessary for your hermit crabs to keep growing healthily. You can use the coconut fiber and extra, larger shells that have been provided to help your hermit crabs with molting. Your hermit crabs will bury themselves in the coconut fiber while molting. After they have finished molting, they will move into the larger shells. As your hermit crabs grow bigger, they will require bigger shells as well as a bigger crabitat.
Have Fun With Your Hermit Crabs
Hermit crabs are active pets who like to have fun, groom themselves, and prove their climbing skills. A cholla wood log has been provided for them to climb and exercise on. More climbing toys and crabitat centerpieces for hermit crabs are available at our online store.
You can provide them with their favorite food in the feeder clamshell to keep them healthy and happy. A sponge has been included to be used as a raft in the water clamshell by your hermit crabs, while they drink water or fill their shells with it. It also helps in increasing the humidity inside the crabitat by providing a larger surface area for water to evaporate.