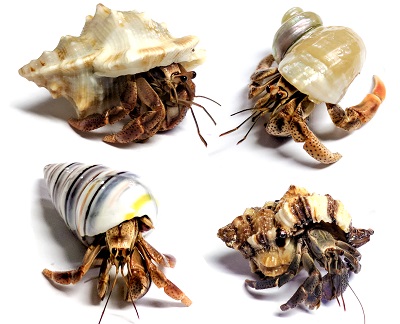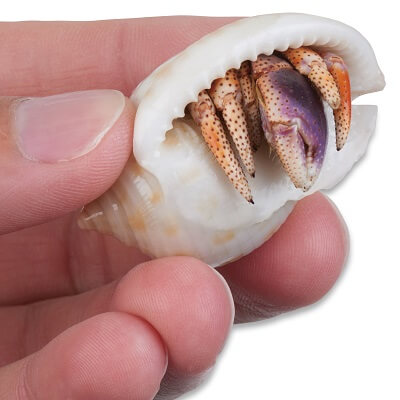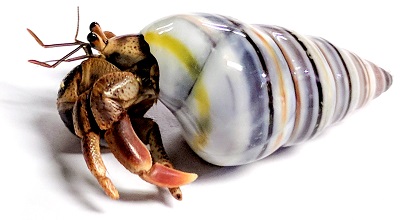 Live Purple Pincher Hermit Crabs
Live Pet Purple Pincher Hermit Crabs for Sale. Looking for some cute hermit crabs for your crabitat? These pretty purple pinchers will bring your hermit crab habitat to life.
Their shells have been cleaned and polished thoroughly. They'll be eager to mingle with their habitat and play as soon as you receive them. Your hermit crabs will be young and will give you many years of joy if you take good care of them. As you tend to their needs, your crustacean pets will grow bigger inside their habitat and form a strong bond with you.
You'll get live purple pincher hermit crabs and an extra, larger shell for each hermit crab to move into after they've finished molting.
LIVE ARRIVAL GUARANTEED!

 

Please do not order if it's below 40°F or above 85°F in your area.

 

Our

 

live arrival guarantee

 

will be void if ordered during these temperatures.
Recommended for ages 4 years and up, with adult supervision
WARNING: CHOKING HAZARD — Small parts. Not for children under 3 years
$7.45 – $12.95
$7.45 – $12.95
1

LIVE

Purple Pincher Hermit Crab SENT NOW
2

LIVE

Purple Pincher Hermit Crabs SENT NOW
Description
Hermit crabs are adorable starter pets for kids. They are highly sociable with each other and play together all the time. With proper care, your purple pincher hermit crabs might live for up to 20 years.
Not Really Hermits
Hermit crabs usually like to mingle with other hermit crabs and play around on beaches. They do this while scavenging for food together. You should make sure that they can take part in similar activities inside their crabitats. Several hermit crab toys and habitat centerpieces are available to give them new objects to climb on and interact with.
But they do like to remain hidden during the day. Make sure you arrange for enough hiding opportunities inside their habitat.
Carrying Home on Their Back
Purple pincher hermit crabs are called so because of their characteristic bigger, purple claw. They are usually found in tropical and sub-tropical regions. They are nocturnal scavengers who use a borrowed shell to protect their soft body parts.
Your purple pincher hermit crabs will come with thoroughly cleaned and polished shells. There will be enough room inside the shell for them to retreat into. Eventually, they will undergo molting and grow bigger. Then they will need a bigger shell to occupy. For this purpose, we provide an extra, larger shell.
Hermit Crabs Know How to Party
Hermit crabs like to hide, dig, climb, and party at night. These energetic ten-footed crustaceans will spruce up your mood with their antics. While your purple pincher hermit crabs will spend most of their daytime sleeping in a hut, they like to party at night and throw a ruckus.
If your crabitat contains a number of hermit crabs, they will all compete to play with the same toy at the same time. It's their way of having fun and socializing! Hermit crabs have certain special needs such as high humidity inside their tank. But they are not difficult to keep and make for excellent starter pets.