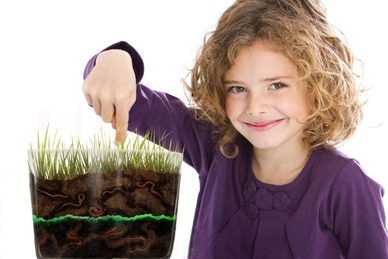 Worm Farm Observation Kit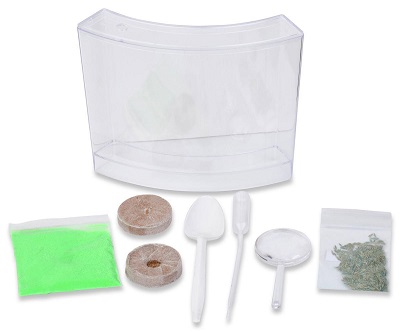 Worm Farm Observation Kit With All Accessories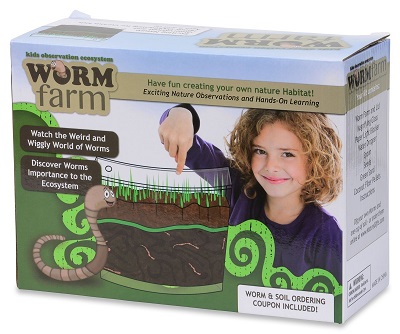 Worm Farm Observation Kit
Worm Farm Observation Kit lets kids of all ages take delight in observing the wiggly world of worms. This observation kit makes learning fun as kids can watch these ecosystem engineers dig tunnels, aerate the soil, and go through the worm life cycle in front of their eyes. A great opportunity to learn more about a worm's importance in our ecosystem!
The kit includes live red worms or

 

certificate for redworms, 6.5

" x 5.5″ x 1.5″ curved worm farm, green sand, a magnifying glass, paper light blocker, water dropper, spoon, grass seeds, coconut fiber pellets, and instructions.

BEST VALUE: We include more helpful supplies than anyone so that you can get the best experience.

You'll need to supply one cup of soil from your yard.

One cup contains 20 live red worms plus a few extra, with soil.

Order your kit with live worms now 

OR

 receive your kit with a FREE certificate which you can redeem to get your worms at a later date.

LIVE ARRIVAL GUARANTEED!

 

Please do not order if it's below 40°F or above 85°F in your area.

 

Our

 

live arrival guarantee

 

will be void if ordered during these temperatures.
Recommended for ages 4 years and up, with adult supervision
WARNING: CHOKING HAZARD — Small parts. Not for children under 3 years
$24.99 – $28.95
$24.99 – $28.95
Kit With 1 Cup Of

LIVE

Worms SENT NOW
Kit With FREE Certificate For 1 Cup Of Worms LATER
Description
Get ready for a wonderful expedition into the hidden realm of worms. Worm Farm Observation Kit contains all the necessary items to help you start keeping worms, take care of them, and grow your own mini worm farm. This is a unique toy that will entertain children and all nature lovers for days on end. Enjoy a clear, cross-sectional view of wiggly worms digging tunnels and mixing the soil, as you learn about their importance.
Your Worm Farm Observation Kit Will Contain
20 redworms in a cup with soil
6.5 x 5.5 x 1.5 inches worm farm
Green sand
A magnifying glass
Paper light blocker
A water dropper
A spoon
Grass seeds
Coconut fiber pellets
Understanding The Importance Of Worms
Worms play a crucial role in every ecosystem that they are a part of. They are regarded as ecosystem engineers because they help in the preservation of soil environment in a number of ways. Worms dig into the soil and create intricate tunnels. As they move through these tunnels, by contracting and expanding their body, they pump air into these tunnels and aerate the soil. The process of water drainage also becomes easy with the creation of these tunnels. These activities favor plant growth and help in environment conservation.
It's difficult to imagine or understand that worms can be important because they are always underground, hidden from the view. Due to this, most of the times children and even adults dismiss worms as unpleasant creatures. Worm Farm Observation Kit has been put together to teach children and nature lovers alike about the crucial role that worms play in our natural world.
Comes With A Complete Set Of Tools
Clear-cut instructions take out the guesswork from this kit so that you can get your worm up and running in no time. Included accessories will make the management of your worm farm a child's play. Green sand serves a special purpose in your warm farm. As the worms move about in the soil, they'll distribute this green sand all over the farm, which will serve as an indication of their vigorous soil mixing exercise.
You can plant the grass seeds that have been provided and watch as your worms' soil mixing activities promote their growth. As the grass takes roots, you'll be able to clearly see how the tunnels your worms make help aerate the soil for the roots. The whole family can take part in this cool project to learn about our natural world and its invaluable occupants.
Watching Worms Up Close
Worm Farm Observational Kit has been designed to unearth all the secrets of these nifty little crawlers. The worm farm itself has been given a curved shape. This increases the area of the worm farm that can be observed and also gives a clear view from different angles. The worm farm is also thin enough so that the worms and their tunnels can be viewed from the side at all times.
A magnifying glass has been provided which you can use to inspect your worms' bodies and movement even more closely. It's important for the children to observe and understand how the worm anatomy is different and what makes them especially suited for digging tunnels underground.