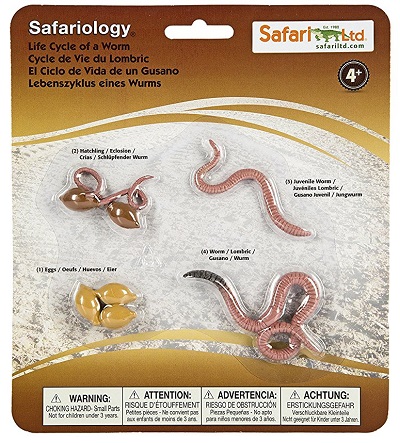 Worm Life Cycle Figurines
Worm Life Cycle Figurines are an excellent toy for kids of all ages, to teach them about earthworms and their life cycle. This four-piece set contains worm eggs, hatchlings, a juvenile worm, and an adult worm. The figurines have been detailed to reproduce the features that are found on their real counterparts. You can use these figurines with the Worm Farm Observation Kit to provide an all-rounded education about worms.
Recommended for ages 4 years and up, with adult supervision
WARNING: CHOKING HAZARD — Small parts. Not for children under 3 years
$9.95
$9.95
Description
These figurines have been carefully designed and prepared to make learning fun for children. They're made with high-quality materials that guarantee a safe play time and long life of the figurines. The figures are large enough for children to adequately hold them in their hands. They will learn about the differentiating features of a worm as it hatches from an egg and goes through its juvenile stage to grow into an adult.
Worm Life Cycle Figurines promote active-learning, which is becoming necessary for an all-rounded education. Usually, worms are not fancied by children because of their underground lifestyle and squiggly bodies. These figurines are meant to provide an easy way for kids to understand about worms and their life cycle. Without having an understanding of worms and their life, it's difficult to accept and appreciate their role in our world.