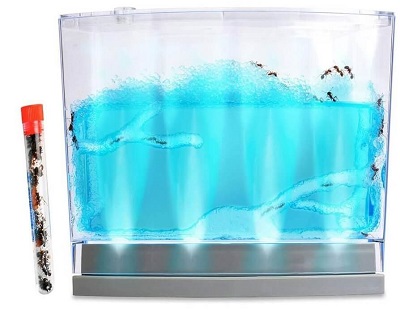 Lighted Gel Ant Habitat With Live Ants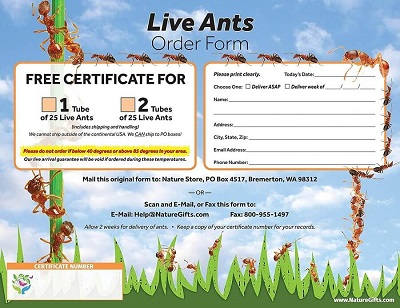 Certificate for Ants Later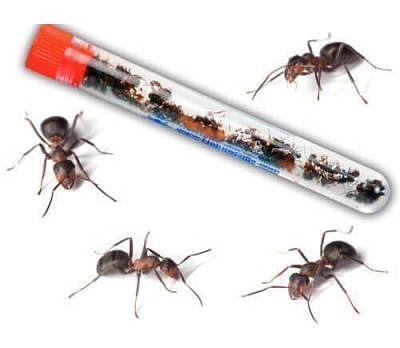 1 Tube of 25 Harvester Ants
Lighted Gel Ant Habitat With Live Ants
Lighted Gel Ant Habitat comes with bright blue LED bulbs that light up the ant tunnels! Now you can easily observe the underground world of ants atop your desk. Pre-packed nutrient-rich gel along with soft blue LED lights lets you clearly watch your ants without getting your hands dirty.
The kit includes live harvester ants or

 

certificate for harvester ants, 6.5

" x 5.5″ x 1.5″ curved ant farm, pre-packed clear nutrient-rich gel, magnifier, tunnel starter tool, removable LED base with 110V AC power adapter, and instructions.
This ant farm is based on experiments conducted by NASA scientists to test ants in space. The unique gel contains all the required nutrients to promote a healthy colony. No food or water needed!
One tube contains 25 live red harvester ants plus a few extra, with food.

Order your kit with live ants now 

OR

 receive your kit with a FREE certificate which you can redeem to get your ants at a later date.

Please do not order if it's below 40°F or above 85°F in your area.

 

Our

 

live arrival guarantee

 

will be void if ordered during these temperatures.

IMPORTANT: We recommend adult supervision for setting up and managing the ant farm. Please follow the instructions that have been provided with your ants and ant farm. Harvester ants can bite or sting to protect themselves when handled, touched, or provoked. If you're allergic or sensitive to insect bites and stings, take extra caution in setting up and managing the ant farm.
Recommended for ages 8 years and up, with adult supervision
WARNING: CHOKING HAZARD — Small parts. Not for children under 3 years
CAUTION: ELECTRIC TOY. Not recommended for children under 8 years of age. As with all electrical products, precautions should be observed during handling and use to prevent electric shock
$29.99 – $34.99
$29.99 – $34.99
Kit With 1 Tube Of

LIVE

Harvester Ants SENT NOW
Kit With 2 Tubes Of

LIVE

Harvester Ants SENT NOW
Kit With FREE Certificate For 1 Tube Of Harvester Ants LATER
Description
Start your expedition into the subterranean realm of ants with your Lighted Gel Ant Habitat. This ant farm kit contains all the necessary accessories to help you start keeping ants. Enjoy a clear, cross-sectional view of all the action that takes place inside your pet ants' gel colony.
Your Lighted Gel Ant Habitat Kit Will Contain
1 – 2 tubes of red harvester ants (25 ants in each tube)
6.5 x 5.5 x 1.5 inches ant farm
Pre-packed blue nutrient-rich gel
A magnifier
A tunnel starter tool
Removable LED base with 110V AC power adapter
Kit Instructions
Enjoy The New Style Of Ant Farms
In Lighted Gel Ant Habitat, translucent nutrient-rich gel replaces sand as the tunneling medium. Not only does it allow you to clearly observe your ants but it also helps in maintaining a favorable temperature inside the ant habitat.
The curved design of the habitat, which makes it easy to view your ants from all angles, is another improvement over the traditional ant farms. The nutrient-rich gel makes sure that you don't have to worry about the feeding schedule of your ants.
Escape-Proof Gel Habitat
Lighted Gel Ant Habitat is escape-proof with a secure lid. Your pet ants will remain safely inside the ant habitat and dig an intricate network of tunnels in the blue gel medium. The base of the ant farm has been made sturdy enough to prevent any unintentional tipping.
The gel medium is composed of sugars, seaweed extracts, and amino acids. As ants get all their nutrient and water needs satisfied from the gel, they stay inside the habitat instead of trying to break free.
Learning About Ants While Having Fun
Blue LED lights will illuminate your ant farm with a soft glow. Since ant farms have to be typically placed in dark rooms to simulate natural underground conditions, Lighted Gel Ant Habitat makes it possible for you to follow what each one of your pet ants is doing with ease.
Use the magnifier provided with the learning kit to bring your ants into clear focus. You can even watch them interact with each other with the help of their antennae. There is an endless amount of fun to be had and ant secrets to be uncovered.