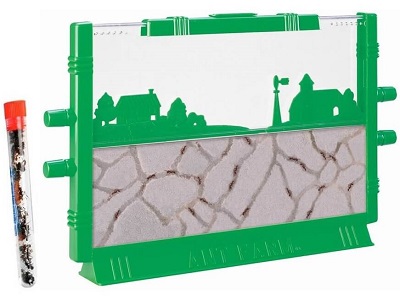 Uncle Milton's Ant Farm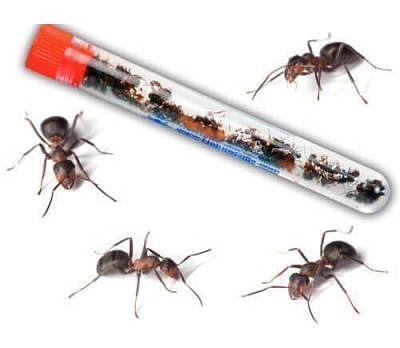 1 Tube of 25 Harvester Ants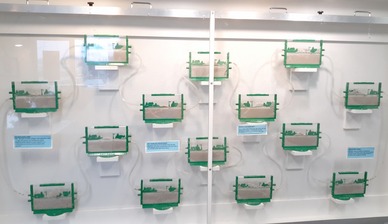 14 Ant Farms Connected
Uncle Milton's Ant Farm With Live Ants
Uncle Milton's Ant Farm With Live Ants allows you to set up your ant colony as soon as it reaches your doorstep. No need to mail-in a certificate or voucher and wait for days to get your ant farm started.
The kit includes 1 tube of live harvester ants,

 9

" x 6″ ant farm,

 

clean tunneling sand

,

 

24-inch clear connecting tube

, tunnel starter tool,

 water feeder

, and

 

illustrated 'Ant Watcher's Guide.

One tube contains 25 live red harvester ants plus a few extra, with food.
If you purchase more than one of these ant farms, you can connect them together. The ants will travel between the ant farms in their big colony.

Please do not order if it's below 40°F or above 85°F in your area.

Our

 

live arrival guarantee

 

will be void if ordered during these temperatures.

IMPORTANT: We recommend adult supervision for setting up and managing the ant farm. Please follow the instructions that have been provided with your ants and ant farm. Harvester ants can bite or sting to protect themselves when handled, touched, or provoked. If you're allergic or sensitive to insect bites and stings, take extra caution in setting up and managing the ant farm.
Recommended for ages 8 years and up, with adult supervision
WARNING: CHOKING HAZARD — Small parts. Not for children under 3 years
$24.95
$24.95
Description
Uncle Milton's Ant Farm is an attractive, educational toy that teaches children about these cool subterranean creatures. Now you can easily watch your ants dig an intricate network of tunnels and establish their colony in this secure habitat.
Your Uncle Milton's Ant Farm With Live Ants Kit Will Contain
1 tube of 25 red harvester ants

 

9 x 6 inches ant farm
Clean tunneling sand
24-inch clear connecting tube
A tunnel starter tool
Water feeder
Ant Watchers' Guide
An Educational Adventure
Uncle Milton's Ant Farm captures the imagination of inquisitive children and adults alike. Children can learn various virtues such as hard work and perseverance just by observing their ants build a colony.
Grown-ups might seek to bring back the nostalgic feeling of keeping ants with the help of this ant farm kit. Illustrative Ant Watchers' Guide has been provided to help you on this educational and entertaining journey. Watch as your ant farm gets transformed from a sleek container of sand into a sophisticated network of ant highways.
Start Your Ant Colony In A New York Minute
Unless it is too hot or too cold for ants to be shipped, you can get your Ant Farm and your pet ants delivered together from our store. You don't have to wait for your ants after mailing-in a certificate or get in the hassle of separate purchases.
It is very easy to prep up your ant farm with ants and have them digging tunnels right away. With time and proper care, you'll soon be looking at an intelligent system of tunnels which your ants will use to march all over the ant farm.
Sixty Years Of Trust
Uncle Milton's Ant Farm has a history of creating memorable moments for children and enthusiasts. It recently enjoyed its sixtieth anniversary and is still cherished as a unique educational toy.
Combined with the live ants shipped together, Uncle Milton's Ant Farm becomes the perfect educational gift for everyone. You can even send a free gift message with the ant farm and put a smile on a loved one's face.