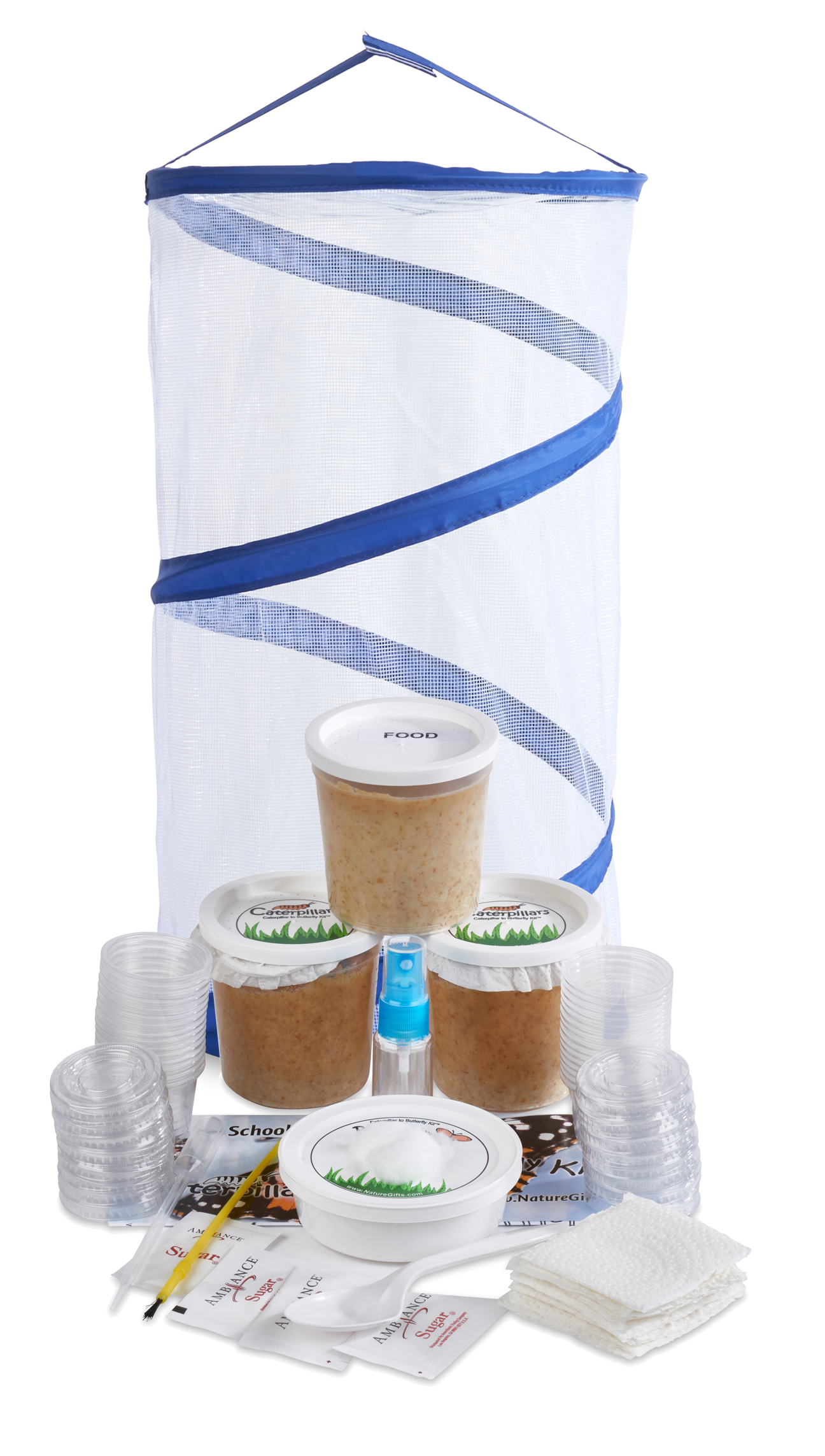 Painted Lady Butterfly Kit for School With 32 Caterpillars and Large 18 "Pop Up Habitat"
Caterpillar to Butterfly Kit for Classroom: Painted Lady Butterflies
Caterpillar to Butterfly Kit for Classroom is a rewarding classroom exercise, even if you haven't grown critters with your class before. Up to 32 children can take part in this activity and grow their own butterflies with this kit.
The kit includes 32 caterpillars or certificate for 32 caterpillars, butterfly habitat, water mister, butterfly feeder, sugar, sugar water dropper, coloring page, caterpillar food and spoon, small cups and lids, filter paper, a transfer brush, and instructions.
Order your kit with live caterpillars now

 

OR

 

receive your kit with a FREE certificate which you can redeem to get your caterpillars at a later date.
We guarantee that 22 out of 32 caterpillars will grow into happy, adult butterflies. Usually, all of them do fine.
You can release your butterflies outside after observing them if it's over 50°F.
LIVE ARRIVAL GUARANTEED!

 

Please do not order if it's below 40°F or above 85°F in your area.

 

Our

 

live arrival guarantee

 

will be void if ordered during these temperatures.
Recommended for ages 4 years and up, with adult supervision
WARNING: CHOKING HAZARD — Small parts. Not for children under 3 years
$56.95 – $59.95
$56.95 – $59.95
Kit With 32

LIVE

Caterpillars SENT NOW
With Large (18 Inches) Pop Up Habitat
Kit With FREE Certificate For 32 Caterpillars LATER
With Large (18 Inches) Pop Up Habitat
Description
Caterpillar to Butterfly Kit for Classroom is a fun way to put active learning into action. Growing butterflies provides a wondrous hands-on opportunity for children as they learn about the concepts of life cycle and metamorphosis in nature. With this kit, your class can enjoy rearing butterflies any time of the year, even during winter time!
For purchase orders: We accept purchase orders by mail, email, or fax. Call-in purchase orders are not accepted. Please include a signature from a billing authorization official. We ship orders made by purchase orders within 2-5 business days. Invoice is included in the package and is also mailed to the billing address on the PO.
Your Caterpillar to Butterfly Kit for Classroom Will Contain
32 painted lady caterpillars
Butterfly habitat selected by you
A cup filled with concentrated caterpillar food
A spoon
32 small cups and lids
32 squares of filter paper and a transfer brush
Water mister
A butterfly feeder with cotton wick
4 packets of sugar
A sugar water dropper
Butterfly life cycle coloring page
Inspire Curiosity About Nature
Caterpillar to Butterfly Kit for Classroom is a fun project to teach children about metamorphosis. Learning about the life cycle of butterflies helps children understand how life evolves. Watching caterpillars turn into butterflies is a fulfilling experience which encourages them to seek out similar examples in nature.
The length of the project is ideal for a fun-filled classroom activity. The transformation of caterpillars to butterflies takes about 3 weeks. The practical experience seamlessly combines with the lesson at hand and drives home the concepts of metamorphosis and life cycle.
An Effortless yet Engrossing Exercise
Even if you or your class haven't raised critters before, growing butterflies is an easy adventure with this kit. For about 3 weeks your classroom will liven up while everyone enjoys this project. The kids will always be excited to check the progress of their caterpillars every day, eager to learn more about them.
You can include the kit instructions in your lesson. Keep the children intrigued by planning easy activities around the topic. Use the butterfly life cycle coloring page for this. You can also encourage them to keep a daily journal to note the progress of their caterpillars.
Can't Grow Them Just Once
Growing butterflies is such a satisfying adventure for children that you will want to to do it all again. Our butterfly habitats are butterfly-friendly, safe for children, and also completely reusable. You can buy the 32-caterpillars refill kit to experience the fun again. After your class finishes rearing their butterflies, you can release them outside when the temperature is above 50°F.
After your class finishes rearing their butterflies, you can continue to keep them in the habitat and observe them for a few days. You can bring to the attention of the class their unique behavior as they taste with their feet and sip on fruit juices or sugar water with their unrolled, tube-like mouthparts. After a few days, you can release them outside when the temperature is above 50°F.