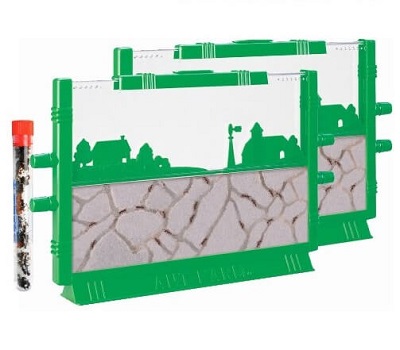 Pair of Connectable Ant Farms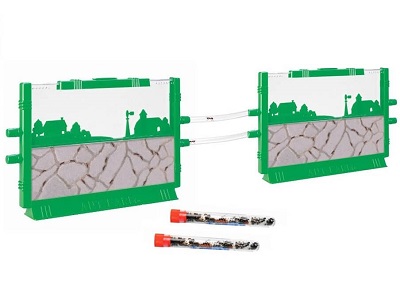 Two Ant Farms Connected Together With Antway™ Connector Tubes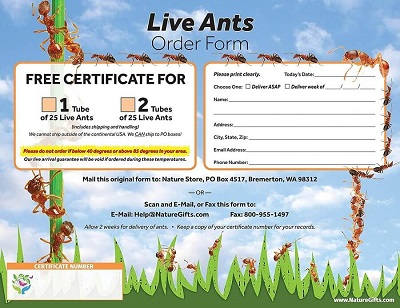 Certificate for Ants Later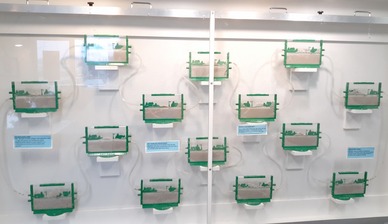 14 Ant Farms Connected
Connectable Ant Farm Pair With Live Ants
With the Connectable Ant Farm Pair you can now double the fun as you burrow into your ants' underground kingdom. Connect your Ant Farm pair together with the help of special connector tube to give your ants more ground to explore and dominate.
The kit includes live harvester ants or

 

certificate for harvester ants, two 9

" x 6″

 

ant farms,

 

clean tunneling sand

,

 

24-inch clear connecting tube

,

 water feeder

, and

 

illustrated 'Ant Watcher's Guide.

Ants travel between the two ant farms through clear, flexible Antway™ Connector Tubes.
One tube of ants contains 25 live red harvester ants plus a few extra, with food.

Order your kit with live ants now 

OR

 receive your kit with a FREE certificate which you can redeem to get your ants at a later date.

Please do not order if it's below 40°F or above 85°F in your area.

 

Our

 

live arrival guarantee

 

will be void if ordered during these temperatures.

IMPORTANT: We recommend adult supervision for setting up and managing the ant farm. Please follow the instructions that have been provided with your ants and ant farm. Harvester ants can bite or sting to protect themselves when handled, touched, or provoked. If you're allergic or sensitive to insect bites and stings, take extra caution in setting up and managing the ant farm.
Recommended for ages 8 years and up, with adult supervision
WARNING: CHOKING HAZARD — Small parts. Not for children under 3 years
$34.99 – $39.99
$34.99 – $39.99
Kit With 1 Tube Of

LIVE

Harvester Ants SENT NOW
Kit With 2 Tubes Of

LIVE

Harvester Ants SENT NOW
Kit With FREE Certificate For 1 Tube Of Harvester Ants LATER
Description
Connectable Ant Farm Pair lets you form a system of ant farms to have ants travel between them. Double the ant action and double the fun. Observe unique ant behavior and different ant 'jobs' like feeder ants that gather food and worker ants that dig. You can explore the amazing world of ants with your family and friends to enjoy and share your ant-keeping experience.
Your Connectable Ant Farm Pair Kit Will Contain
1 – 2 tubes of red harvester ants (25 ants in each tube)
Two 9 x 6 inches ant farms
Clean tunneling sand
24-inch clear connecting tube
Tunnel starter tool
Water feeder
Ant Watchers' Guide
Give A New Spin To Simple Ant Farms
Uncle Milton's Ant Farm is a neat educational toy which has been famous for its simplicity and effectiveness when it comes to keeping ants. If your adventurous mind always prompts you to do something new all the time, then the Connectable Ant Farm Pair will surely be rewarding.
Connecting together the pair of Ant Farms brings expands the playfield that your ants have access to significantly. You can observe them over a large area and see how they really behave underground in their nest. A single Ant Farm contains four ports through which connections can be made.
More Room For Your Ants
Uncle Milton's Ant Farm is able to house up to 50 ants in one Ant Farm. Joining two such Ant Farms together makes room for a big swarm which travels to-and-fro between the habitats using the connector tube.
The whole tribe works in unison to construct their ant colony, which is spread over the two Ant Farms. They carry items back and forth between the ant farms, dig tunnels, eat, sleep and then again get back to work.
Get Ready For An Unforgettable Experience
Live ants are shipped together with this ant farm kit so that you do not have to anxiously wait 2-4 weeks for your ants to arrive. The complete set of tools makes it easier for you to take care of your ants and help them establish their colony.
Connectable Ant Farm Pair is all about getting more real estate for your ants to enjoy. An expansion in digging space will keep them active and happy all the time as they will remain busy in making a nest with entangled tunnels.