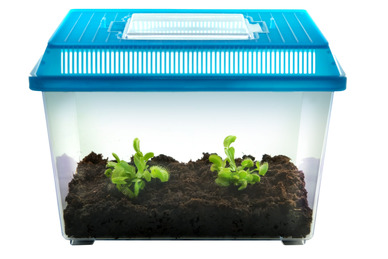 Deluxe Venus Flytrap Terrarium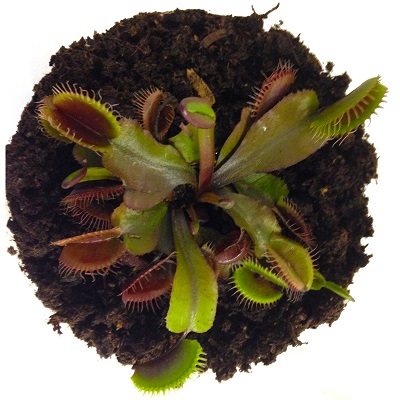 Venus Flytrap (top-down view)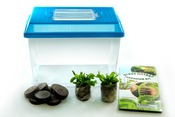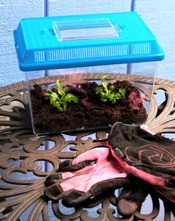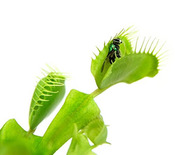 Deluxe Venus Flytrap Terrarium Kit
Deluxe Venus Flytrap Terrarium Kit gives you an exciting opportunity to keep and grow a pair of Venus flytrap plants. This is a starter kit which comes with live adult venus flytraps. Now you don't have to wait to grow them from scratch and wait for 2-3 years to start seeing some predatory action. Your venus flytraps will be about 2 – 3 inches tall, adult-sized plants. Grow them even bigger, take care of them, and learn more about these bug lovers.
The kit includes a pair of live venus flytraps or certificate for plants, 1-gallon terrarium (9″ x 6″ x 6.5″), sphagnum peat moss, and instructions.

Comes as a set of 2 live Venus flytraps with at least 3 traps each, ready to spring on an oblivious insect. 

Terrariums

come 

in an

assortment

of

bright

colors

.
Order your kit with live carnivorous plants now

 

OR

 

receive your kit with a FREE certificate which you can redeem to get your plants at a later date.
LIVE ARRIVAL GUARANTEED!

 

Please do not order if it's below 40°F or above 85°F in your area.

 

Our

 

live arrival guarantee

 

will be void if ordered during these temperatures.
Recommended for ages 4 years and up, with adult supervision
WARNING: CHOKING HAZARD — Small parts. Not for children under 3 years
$24.95 – $28.95
$24.95 – $28.95
2 PLANTS KIT: Kit With 2 Flytraps SENT NOW
2 PLANTS KIT: Kit With FREE Certificate For 2 Flytraps LATER
Description
Get along with these lively fly trappers with the Deluxe Venus Flytrap Terrarium Kit. This is an exciting opportunity for children and nature lovers to bring home a pair of insect munching plants. Witness them lure their prey, trap them with their modified leaves, and swallow them to oblivion!
Your Deluxe Venus Flytrap Terrarium Kit Will Contain
Set of 2 Venus flytraps
1-gallon terrarium (9 x 6 x 6.5 inches)
Sphagnum peat moss
Growing Plants Was Never This Easy
Your venus flytraps will easily grow big and strong, feeding on delicious insect treats and ample sunlight. The deluxe terrarium is able to trap and contain enough humidity to give your plants a boggy environment and make them feel comfortable, away from their natural habitat. Fresh air will circulate freely through the terrarium because of the vents provided in the lid. This will prevent the growth of mildew or other fungi.
Glass terrariums aren't good for carnivorous plants because they heat them up to high levels when kept in direct sunlight. The deluxe terrarium will keep your green pets in a natural, boggy environment even when kept on the window sill. All you need is a sunny spot and pure water free of leaching minerals. Flytraps like winter dormancy when their leaves dry up and go black. They will regrow right back every spring. 
Teaching Kids About Evolution
Venus flytraps modify their leaves into trapping structures. They need to do so in order to survive. These plants appeared in wet, marshy areas where the soil didn't have enough nutrients to support the needs of these plants. To make up for the scantily available nutrients in the soil, these cool plants had to evolve and construct insect catching traps.
You can examine their unique trap structure while they wait for innocent flies to drop by. As soon as a fly lands inside the trap, they will get shut inside, and slowly digested by the merciless plant. You can easily watch their trap in action by giving them treats. Be careful not to overfeed them or stimulate the trap without providing a treat. A trap can only close and open so many times and poking it just to watch it work isn't good for the plant.
Everything You Need To Grow Your Plants Bigger
Sphagnum peat moss has been provided with your kit. It is an excellent soil-mix to grow your venus flytraps in. The deluxe terrarium along with the peat moss will ensure that there is no damage to their roots due to dissolved minerals. Keep rainwater, distilled water, or reverse osmosis water ready to welcome your venus flytraps and for future watering.
It takes up to 3 years for carnivorous plants to grow into full-grown adults. But all the carnivorous plants available in our online shop are already in their prime and ready to catch their prey. Your meat-eating plants will arrive 2-3 inches tall, which is considered adult-sized. They'll continue to grow to their full length with your help.